February 01,2014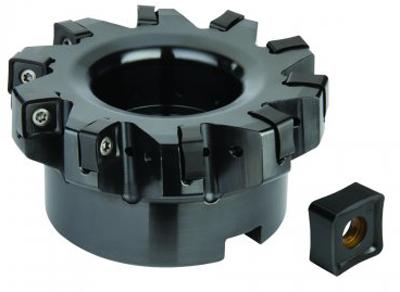 With eight cutting edges, the new KSSM8+ face milling platform from Kennametal is focused on maximum metal-cutting performance in cast irons and steel workpieces at a low cost.
Cutting cast-iron parts is tough and it should be. Cast-iron pump housings, brake calipers, turbine housings, and many other parts are critical foundation components for entire industries, including automotive, heavy equipment, energy, and fluid power. Achieving the highest level of milling performance at the lowest cost per cutting edge is essential for success.
The IC10 size provides a 9mm (0.354") depth of cut, while the IC 12.7 achieves a 6mm (0.236") DOC. Both have high lead angles (88 degress and 87 degrees, respectively), making them good choices in applications where fixture limitations or part designs call for close to 90-degree shoulders.
The double-sided insert design with eight cutting edges provides users with the lowest cost per edge, while the -LD geometry's positive rake face and honed edges result in lower cutting forces and good floor finishes in medium and finish machining.
While face milling is a common, everyday metal-cutting task, it is one with many critical considerations. Depth of cut must be balanced against maximizing speeds and feeds for long tool life. High surface finish requirements must be factored into achieving high production efficiencies. That is why a range of insert grades for the new KSSM8+ platform is available for face milling steels, stainless steels, and wet or dry machining of ductile cast irons. Together with the choice of medium- and fine-density cutter bodies makes KSSM8+ the right solution in addition to the preferred low-cost choice when milling cast irons.