January 13,2013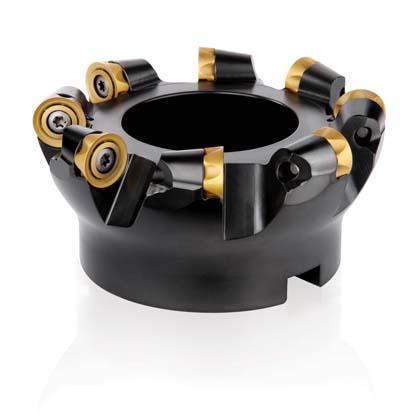 The KSRM line of cutters is a new, multipurpose milling solution from Kennametal specifically engineered for titanium and stainless steel applications. Their design enables pocketing, profiling, ramping, and plunging with up to 1mm fz. KSRM milling cutters deliver consistent performance and excellent metal removal rates with the lowest cutting forces for roughing applications.
All KSRM inserts offer up to eight indexable positions for fast and accurate insert changes. These inserts were designed with a high positive rake angle and stronger cutting edges for lower cutting forces when machining titanium.
KSRM inserts are available in 12mm and 16mm diameters for KSRM face mills and screw-on, Weldon and cylindrical KSRM end mills. These diameters are offered in SGE and ELE insert styles, which are the first choice for titanium applications. SGE inserts are designed for medium and heavy milling tasks, whereas ELE inserts should be used at low cutting forces and to avoid edge build-up.
A 20mm diameter insert is also available for compatible KSRM face mill models. These inserts are offered in three styles. ELF inserts are designed for low cutting forces to avoid edge build-up. SGF and SHF inserts are for general purpose and heavy-duty roughing applications, respectively.
KSRM tool bodies are offered in a range of internally cooled face mill and end mill styles with pocketing, ramping, plunging, and helical interpolation capabilities. All are designed with a high clearance for superior plunging, ramping, and chip load capacities. An anti-rotation screw delivers excellent stability with higher feed rates and cutting forces. The anti-rotation components also provide eight indexable positions for 12mm and 16mm inserts. Face mills utilizing 20mm inserts are engineered for roughing titanium with large depths of cut through positive geometry inserts. These mills allow six indexable rotations and are used for diameters from 60mm to 200mm.