August 13, 2012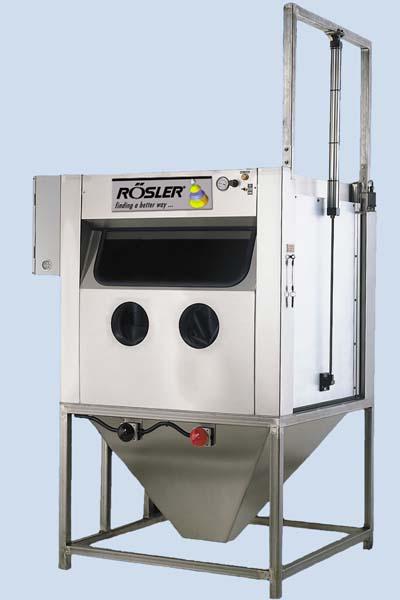 Rosler's KS series wet blast machines offer flexible, productive solutions while providing uniform media flow and unequaled finish control. With standard machine cabinet sizes from 28-60" square and a wide range of sump and media capacities, these industry-leading machines are well-suited to a variety of applications.
The KS high-volume wet blast process is a self-contained system which uses a slurry of abrasive media and water to clean, descale and degrease surfaces in a single operation. The slurry is directed through a special high-volume, internally-mounted pump to a blast gun where regulated air pressure adjusts the aggressiveness of the process. The process is free of dust and chemicals, and because it is "closed-loop" with the media and water re-circulated, there is no need for a drain. It also eliminates waste water pollution and costly disposal methods.
Plus, by using water as a buffer between metal and media to cushion the shock and reduce the downward force, KS series wet blasting machines also eliminate the surface impregnation possible in traditional media to part processes. They are ideally suited for cleaning and deburring molds, circuit boards, parts and castings as well as preparing high performance surfaces for etching, matte finishing, peening and texturing.
Related Glossary Terms