September 27, 2019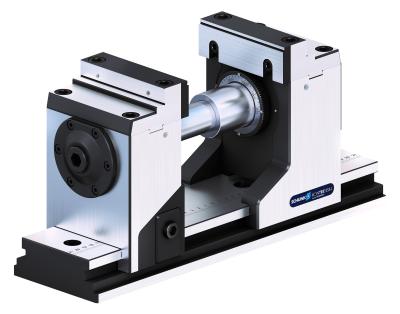 In response to high demand, Schunk has increased its product line of power-amplified 5-axis vises, which are now equipped with an adjustable center. The maintenance-free Schunk Kontec KSX-C is now available in four base body lengths (330 mm, 430 mm, 500 mm and 630 mm) and two heights (174 mm and 125 mm).
The high-quality 5-axis vises have two jaws, which can be precisely moved by a laser-etched ruler. The clamping forces can be adjusted without tools between 4 kN and 40 kN, and are measured directly on the workpiece. The vise also provides plenty of power for a safe hold even in cases with minimal clamping surfaces. Workpieces are clamped within seconds with the help of 160° quick clamping in a vibration resistant manner and at a high repeat accuracy.
Due to clamping by tension, the bending load at the base body is minimized. Moreover, the jaw guidance system and the arrangement of the clamping mechanism provide for a very rigid and dimensionally stable setup, and therefore creates the ideal conditions for precise machining of the second side.
The drive and the adjustment mechanism of the 5-axis vise are fully encapsulated, and therefore protected against the ingress of chips, dirt and coolant. The easy-to-clean design of the vise avoids the accumulation of chips. Therefore, the Kontec KSX-C can be seamlessly integrated into the modular system for highly efficient workpiece clamping from Schunk.
The clamping pins of the Schunk VERO-S quick-change pallet system can be used for direct mounting of the base body without requiring an adapter plate. Combined with the quick-change pallet system, the vise can be exchanged on the machine table within seconds and at maximum repeat accuracy. It can be equipped with standard, aluminum or special 5-axis top jaws, pendulum plates, or with many other standard jaws from the world's largest range of standard chuck jaws from the company.
Related Glossary Terms
chuck


chuck

Workholding device that affixes to a mill, lathe or drill-press spindle. It holds a tool or workpiece by one end, allowing it to be rotated. May also be fitted to the machine table to hold a workpiece. Two or more adjustable jaws actually hold the tool or part. May be actuated manually, pneumatically, hydraulically or electrically. See collet.

coolant


coolant

Fluid that reduces temperature buildup at the tool/workpiece interface during machining. Normally takes the form of a liquid such as soluble or chemical mixtures (semisynthetic, synthetic) but can be pressurized air or other gas. Because of water's ability to absorb great quantities of heat, it is widely used as a coolant and vehicle for various cutting compounds, with the water-to-compound ratio varying with the machining task. See cutting fluid; semisynthetic cutting fluid; soluble-oil cutting fluid; synthetic cutting fluid.