October 18, 2016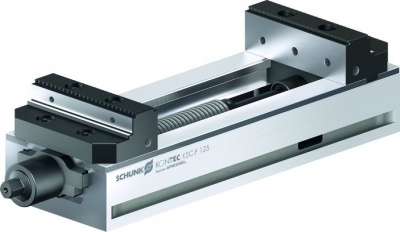 The SCHUNK KONTEC KSC-F single-acting clamping vises with fixed jaw, achieves high clamping forces at comparably low torque. Due to the 160 degree "Quick Clamp" force intensifier, workpieces are clamped in less than a second, and the vise is safely locked, making retightening with a torque wrench no longer necessary. The vise can be easily actuated by a standard hexagon connection using either conventional socket wrenches, extensions, or torque wrenches.
The actuation force is provided by a spindle and is linear. By turning the spindle, the moveable jaw is moved to the fixed jaw. The clamping force depends on the torque and the clamping range depends on the jaws being used. High clamping forces can be achieved with low torque. Because the unit uses tension to clamp, the bending load at the base body is minimized, making it easy to use with the whole VERO-S modular system from SCHUNK.
Related Glossary Terms
turning


turning

Workpiece is held in a chuck, mounted on a face plate or secured between centers and rotated while a cutting tool, normally a single-point tool, is fed into it along its periphery or across its end or face. Takes the form of straight turning (cutting along the periphery of the workpiece); taper turning (creating a taper); step turning (turning different-size diameters on the same work); chamfering (beveling an edge or shoulder); facing (cutting on an end); turning threads (usually external but can be internal); roughing (high-volume metal removal); and finishing (final light cuts). Performed on lathes, turning centers, chucking machines, automatic screw machines and similar machines.