September 15, 2020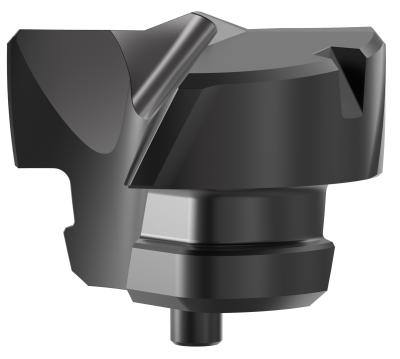 Kennametal has expanded its replaceable drill offering for KenTIP FS modular drill series with the new FEG insert for flat bottom hole applications. Applicable in steel, cast iron, and stainless steels, the FEG insert eliminates end milling operations and completes a task in a single operation, saving time and tooling costs.
Drilling flat-bottom holes is a challenge. So is drilling on inclined or curved surfaces, drilling into cross holes, drilling stacked plates, and drilling into cross holes, stacked plates and castings and other rough surfaces. Not anymore. Leveraging the success of its KenTIP FS modular drill, Kennametal has developed a unique insert geometry (FEG) that streamlines many of these types of applications and simplifies the drilling of counterbores and pilot holes as well.
"The FEG insert is so versatile, you can use it for nearly all your drilling applications", says Georg Roth, Kennametal's Global Product Manager of Holemaking for Modular Drilling Tools.
The newest member of the KenTIP FS family, the FEG insert eliminates the need for drilling and end milling flat bottom holes, instead completing the part in a single operation.
Get to the point
Conceptually, the FEG geometry design is simple. It features a 180° cutting edge, and a conical center point, which acts as a pilot to provide exceptional hole position and straightness. Corner chamfers serve to protect the cutting edges and reduce exits burrs. Four margin lands provide stability when breaking into interrupted cuts and cross-holes. And Kennametal's KCP15A grade uses a nano-structured AlTiN coating and fine grain carbide substrate, providing both toughness and wear resistance when drilling steel, stainless steel, and cast iron.
The diameter range covers 6.0 – 26.0 mm (0.236 - 1.024 in.) and drilling depth of up to 12xD is possible depending on the KenTIP FS modular drill body.
Additional Products from Kennametal Inc.