April 01, 2014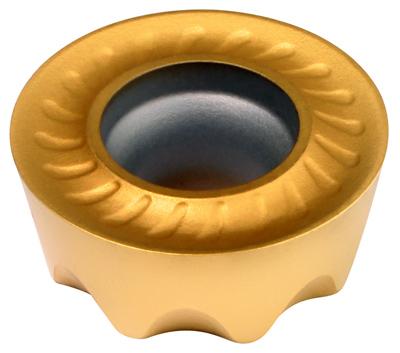 Because of its high strength-to-weight ratio, titanium remains in high demand for precision components such as turbine blades in aircraft engines and power plants and frame components in aircraft structures and racecars. Shops know machining titanium and other high-strength/high-temperature alloys is a significant challenge, unlike milling steels or aluminum.
With approximately 25 percent longer tool life, the new KCSM30 milling grade from Kennametal directly reduces cost-per-part for shops working on titanium, according to the company. With a fine-grained carbide substrate for strength and stability together with a TiAlN PVD coating for excellent wear resistance, not only are tools lasting longer, shops are also able to increase cutting speeds, up to 230 sfm (70m/min).
Due to titanium's high strength, thermal management is extremely important in managing and prolonging tool life. KCSM30 is also available in Kennametal's proprietary Beyond Blast composition, where integral coolant channels deliver coolant through the insert precisely to the cutting edge under the chip, where it does the most good reducing heat and friction while increasing productivity. In addition, coolant is only delivered in the insert quadrant that is doing the actual cutting, allowing the inserts remain indexable for maximum use.
Demand for higher-strength, higher-performance components in the world's critical industries will only continue to expand, along with the pressures on manufacturers to increase quality and reduce costs. Available in face milling, copy milling, and shoulder milling platforms, KCSM30 from Kennametal is reportedly an effective choice for shops seeking to improve productivity.
Additional Products from Kennametal Inc.