October 09, 2021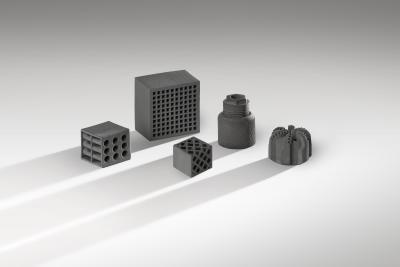 Kennametal Inc. (NYSE: KMT) has launched KAR85-AM-K, its most corrosion resistant tungsten carbide grade for metal additive manufacturing. It is available exclusively in combination with Kennametal's binder jet 3D printing capabilities to produce fully finished wear components. With KAR85-AM-K, Kennametal combines the advantages of 3D printing, such as greater design flexibility and shorter lead times, with the performance of conventional carbide, to produce high-performance parts for customers in oil and gas, power generation and beyond. Components made with the new grade are already in field trials with select customers.
"Kennametal is leading the way in tungsten carbide additive manufacturing by combining the superior wear and corrosion resistance of our new KAR85-AM-K grade with deep expertise in binder jet 3D printing," said Jay Verellen, General Manager, Kennametal Additive Manufacturing. "With this new grade, we're delivering the best of both worlds for our customers—the highly desirable material properties of conventional tungsten carbide with the design flexibility of additive—for high performance components that go the distance in the most demanding applications."
Drawing on its deep materials science expertise, Kennametal developed KAR85-AM-K to provide corrosion and wear resistant properties analogous to its conventional counterpart grade, CN13S. Combined with Kennametal's binder jet additive manufacturing capabilities, KAR85-AM-K results in fully densified, corrosion resistant components that meet or exceed the properties of conventionally manufactured carbide components.
The new grade composition features a proprietary blend of cobalt, nickel, and chromium for improved corrosion resistance compared to standard cobalt-based tungsten grades. It is Kennametal's second commercial carbide grade developed for use in its binder jetting additive manufacturing processes and the latest addition to the business's portfolio of high-performance metal powders optimized for 3D printing.
Related Glossary Terms
corrosion resistance


corrosion resistance

Ability of an alloy or material to withstand rust and corrosion. These are properties fostered by nickel and chromium in alloys such as stainless steel.

tungsten carbide ( WC)


tungsten carbide ( WC)

Intermetallic compound consisting of equal parts, by atomic weight, of tungsten and carbon. Sometimes tungsten carbide is used in reference to the cemented tungsten carbide material with cobalt added and/or with titanium carbide or tantalum carbide added. Thus, the tungsten carbide may be used to refer to pure tungsten carbide as well as co-bonded tungsten carbide, which may or may not contain added titanium carbide and/or tantalum carbide.