January 08, 2020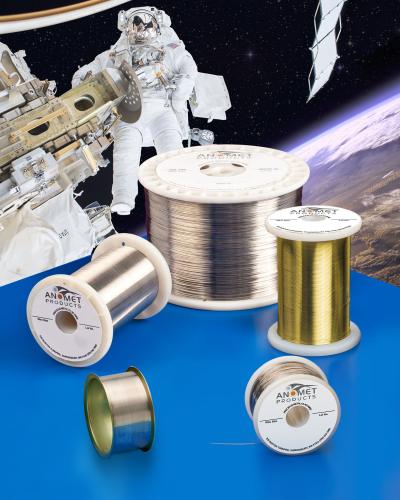 Custom engineered clad metal wire composites that can achieve specific properties for use in harsh environments, inside or outside of the human body, has been introduced by Anomet Products.
Anomet Composite Clad Metal Wire combines up to three metals or alloys to achieve specific properties such as corrosion-resistance, biocompatibility, or operation at temperatures from cryogenic to 1,200° C. Featuring 2% or more cladding thickness to produce wire that meets design requirements and cost criteria, the clad wire is suitable for use in sensors, switches, connectors, implantable medical devices and other applications in harsh environments.
Metallurgically bonded together to provide high reliability, flexibility and optimal formability without breaking, flaking or blistering, Anomet Composite Clad Metal Wire is available in sizes from 0.002" to 0.125" OD. Incorporating a gold, silver, palladium or platinum exterior layer, the core and second layer can include copper, stainless steel, Kovar, niobium, Nitinol, nickel-iron, molybdenum, tantalum and titanium.
Related Glossary Terms
alloys


alloys

Substances having metallic properties and being composed of two or more chemical elements of which at least one is a metal.

composites


composites

Materials composed of different elements, with one element normally embedded in another, held together by a compatible binder.

outer diameter ( OD)


outer diameter ( OD)

Dimension that defines the exterior diameter of a cylindrical or round part. See ID, inner diameter.