April 01, 2011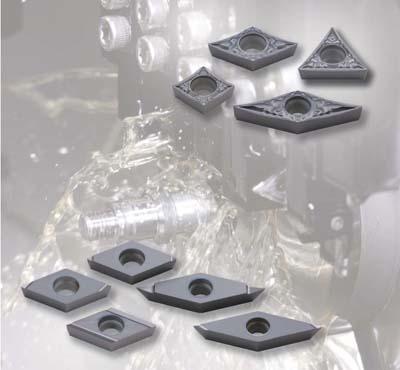 For parts that are less than 0.125" (3.18-mm) in diameter, Tungaloy America Inc. introduced a series of high-positive, low-cutting-force, screw-down, dead-sharp inserts and toolholders last year. There are four chipbreakers: JS features a molded chipbreaker and the JRP, JPP, and JSP inserts are fully ground with accuracy of +/-0.0002" (0.005mm) from the base of the tool to the end of the insert's tip.
"These inserts are designed for parts that require critical centerline accuracy and low cutting force," explains Brian Sawicki, Tungaloy's Turning Products Manager. "If you are cutting above centerline, you push the part. If below centerline, you gouge the part. It's important to be on center to accurately cut theses parts. These highly accurate, free machining inserts, allow you to machine small parts with minimal adjustment required for size."
The JS chipbreaker is a bidirectional insert with an aggressive, molded chipbreaker. The insert is designed with a tightly placed breaker near the cutting radius. It also features a high positive, inclined cutting edge. If this insert can't break the chip, it will direct it away from the workpiece.
"The JS type is most applicable for very small components in the medical, aerospace and automotive industries. One of the largest end users is a fuel filtration manufacturer for jet engines. The other three inserts, JRP, JPP, and JSP, were intended for small components made for the disk drive industry. They're designed to take a lighter cut, but have potential for machining pacemaker parts, fuel system components and even watch components," says Sawicki.
Related Glossary Terms
chipbreaker


chipbreaker

Groove or other tool geometry that breaks chips into small fragments as they come off the workpiece. Designed to prevent chips from becoming so long that they are difficult to control, catch in turning parts and cause safety problems.

cutting force


cutting force

Engagement of a tool's cutting edge with a workpiece generates a cutting force. Such a cutting force combines tangential, feed and radial forces, which can be measured by a dynamometer. Of the three cutting force components, tangential force is the greatest. Tangential force generates torque and accounts for more than 95 percent of the machining power. See dynamometer.

turning


turning

Workpiece is held in a chuck, mounted on a face plate or secured between centers and rotated while a cutting tool, normally a single-point tool, is fed into it along its periphery or across its end or face. Takes the form of straight turning (cutting along the periphery of the workpiece); taper turning (creating a taper); step turning (turning different-size diameters on the same work); chamfering (beveling an edge or shoulder); facing (cutting on an end); turning threads (usually external but can be internal); roughing (high-volume metal removal); and finishing (final light cuts). Performed on lathes, turning centers, chucking machines, automatic screw machines and similar machines.