December 13, 2012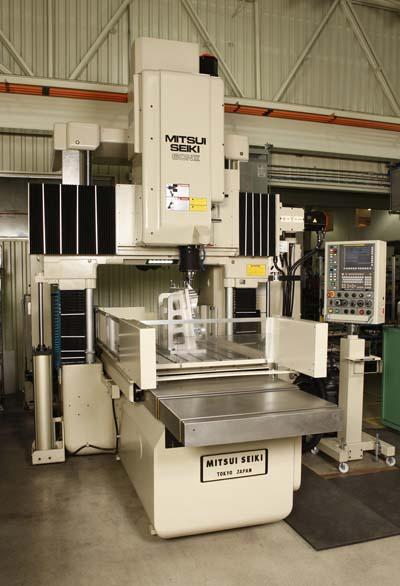 Mitsui Seiki USA Inc. announces a new service: refurbishing older Mitsui Seiki high precision jig borers. Mitsui Seiki is one of world's only remaining suppliers of jig boring machines.
"Jig borers are, in terms of accuracy, 'mother' machines, ultra precise machine tools that other machine tool builders use to make their own products," said Scott Walker, president. "They are expensive to replace. Many of our customers are choosing to rebuild versus replacing them entirely."
Milling accuracies to 2.5µm are common on a jig borer, typically one decimal point tighter than a high-end machining center. "Experienced operators can machine to tolerances of oneµm on a jig borer," said Walker.
Many jig borers can last up to 25 years before reconditioning is needed. When the machine requires attention, Mitsui Seiki can enhance, rebuild or replace several components. For example, the company typically rescrapes the table surface. A jig borer's table is essentially a master gage. It's a qualifying surface in relation to the machine and the precision workpieces. The jig borer itself is built from the master table surface, which is the only machine tool type that is constructed that way. Generally, Mitsui Seiki also refits the quill assembly, replaces spindle bearings, integrates a new Fanuc control system, rewires the electrical components, and replaces the outdated motors and drives.
Many of the jig borers at work today are used for reboring aircraft gearboxes. Typically critical gear box bores are fitted with a bushing, and then the bushing is bored back to its correct size. The flat portion of the gearbox sits on the table, and the quill feeds down exactly perpendicular to the table surface, make a perfectly round perpendicular bore to the flat side of the gear box. Machine tool builders also use jig borers for their machine tool gearboxes, pallets, and spindle housings. Jig borers are also often used to manufacture optics housings and guidance systems.
Jig borers rarely wear out completely. Therefore, Walker believes major machine tool builders are placing these rebuild orders to increase their ultra precision machining capacity. This could mean that machine tool builders are looking to achieve major improvements in the accuracy of their own equipment. Conditions in the aerospace market are contributing to this trend. Military facilities and subcontractors will rely heavily on jig boring machines to rework critical components such as gearboxes. Walker noted that similar situations exist in the commercial aircraft markets. The demand for new fuel-efficient jet engines is increasing the demand for ultraprecision machining applications to support these new component demands. New generation aircraft will also require new maintenance programs. New helicopters are contributing to the push for jig borer capabilities as well.