June 24, 2020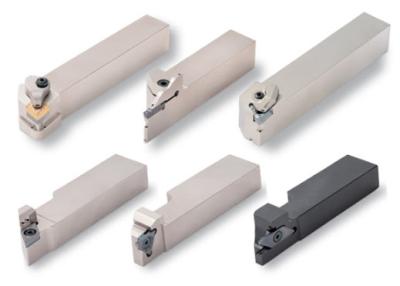 Kyocera Precision Tools' jet coolant-through toolholder series provides multiple high-pressure coolant streams at precise locations giving you the upper hand in chip control and wear prevention. The large JCT-Series tooling lineup has now been expanded to include all new inch-size holders. Learn how this series can improve your production line with excellent performance in a variety of turning, grooving, cut-off, and threading applications.
Double-Clamp-JCT
Turning
Utilizes multiple coolant streams to improve chip control and lengthen tool life for a wide variety of workpieces including steel, hardened steel and difficult-to-cut material.
KGBA-JCT
Shallow Grooving
Superior cooling action with the focused coolant stream directed between the chipbreaker and the chip to create stable chip curls and better cooling of the insert.
KGD-JCT
Gooving / Cut-off / Small Diameter Cut-off
Coolant is directed from the rake surface and the flank face of the insert for excellent chip control and longer tool life. A optimized coolant hole position for small parts cut-off discharges coolant precisely towards the rake face of the insert for better wear resistance.
KTN-JCT
Threading
Prevents chip recutting, clogging, and entanglement by directing coolant from the flank face of the insert to smoothly evacuate chips away from the cutting edge.
Screw-Clamp-JCT
Small Parts Turning
Double coolant holes provide coolant toward the cutting edge surface of the insert to efficiently cool the edge and provide greater wear resistance and longer tool life.
KGBF-JCT
Small Parts Grooving
Unique coolant hole design can eject coolant closer to the cutting edge than competitor products while keeping stream narrow to avoid pressure loss and provide stable chip curls.
KTKF-JCT
Small Diameter Cut-off
Double coolant holes break chips evenly into small pieces with excellent chip control performance when machining difficult-to-cut material and stainless steel.