September 05, 2019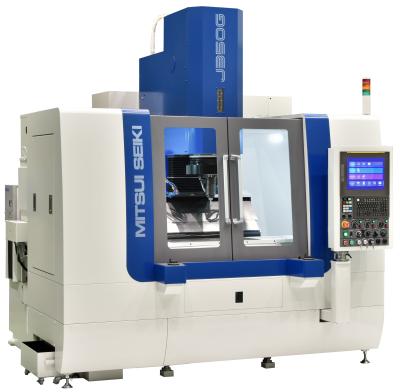 The Mitsui Seiki J350G jig grinder offers a combination of application flexibility, accuracy and operator-friendly operation. The machine provides a very large grinding infeed stroke, with a U-axis range of -3mm to +50mm relative to the spindle center. This provides the flexibility to grind small- and large-diameter holes, as well as multiple features, using a single wheel in a continuous, automatic mode.
To maximize accuracy, the X and Y axes of J350G are hand scraped and incorporate needle roller bearings. The machine bed consists of a thick, highly rigid casting supported by three level points, assuring consistent perpendicularity and parallelism. Built-in, custom-designed Heidenhain scales contribute to +/- 0.0007mm accuracy on the X, Y and Z axes.
Table longitudinal travel (X-axis) is 500mm, transverse travel (Y-axis) is 300mm and quill travel (Z-axis) is 100mm. Maximum distance from the table surface to the grinding spindle nose is 450mm. The machine's work surface is 700mm x 350mm and permissible table load is 300kg.
Table and saddle maximum rapid feed rates are 2,000 mm/min. and grinding feed rates are variable from 0.1 mm/min. to 2,000 mm/min. The standard high-frequency spindle motor operates from 9,000 rpm to 45,000 rpm. A variety of spindle motor options include an air-turbine motor with 75,000-rpm capability.
The machine's 3 sq. m (2,220mm x 2,610mm) footprint is 50 percent smaller than that of the previous model, maximizing floor space efficiency. A standard total enclosure machine cover permits easy operator access while fully addressing safety and environmental concerns.
The J350G's FANUC 31i-B control has a 15" touch panel LCD screen and is preloaded with G-MAPS conversational-style programming software. The control also permits easy manual programming via graphic icons, data entry or conventional methods.
"The J350G jig grinder gives users the ability to grind a wide variety of features automatically, without changing wheels," said Tom Dolan, Mitsui Seiki vice president of sales and marketing, "It thereby provides the flexibility required in today's manufacturing environment."