July 03, 2019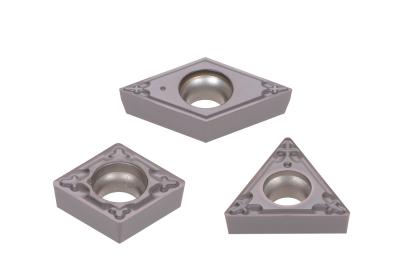 Tungaloy enhances its ISO positive turning inserts in "-01" geometry to include a 0.4 mm (0.0157") nose radius prepared in a minus tolerance specifically for precision finishing in Swiss turning applications. The new -01 geometry is designed to deliver consistent chip control at extremely light cutting depths of 0.5 mm (0.020") or smaller.
The introduction of a 0.4 mm nose radius insert is implemented due to the increased demands in the Swiss-style turning market where workpieces with 0.4 mm corner radius requirements are as popular as workpieces with 0.2 mm radii. In addition, these corner radii are often required to be finished equal to or smaller than the required radius dimensions in order to minimize the impact on dimensional accuracy. Therefore, the insert nose radii of the -01 geometry are all designed and constructed in a minus tolerance to the nominal nose radii, and not exceeding it.
Combined with the existing -JS geometry, the first-choice for small part turning, the enhanced lineup of the -01 geometry provides customers with optimal chipbreaker options for various cutting depths and feed rates in Swiss turning operations.
The -01 geometry is optimized for cutting depths of 0.5 mm (0.020") or less, while -JS geometries are effective for depths of cut ranging from 0.5 mm to 3.0 mm (0.020" to 0.118").
At a Glance
-01 geometry provides good chip control in DOC ≤0.5 mm
Ideal for turning into shoulders with strict corner radius requirements
Sharp cutting edge provides chatter stability and superior surface integrity in machining small-diameter bar stock
With -01 and -JS geometries combined, extremely light cutting depths of ≤0.5 mm all the way up to 3.0 mm are now covered
10 inserts to be added in this expansion
Additional Products from Tungaloy America Inc.