November 08, 2022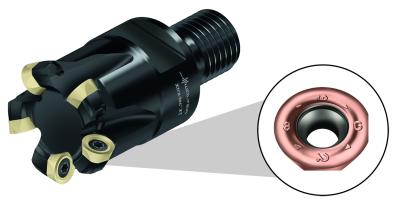 Walter has announced a new addition to its product line: the WXN15 coated grade for machining ISO N materials. Responding to the growing use of aluminum in the automotive and aerospace industries where it is valued for its ability to save weight, and in general metalworking where it can speed machining in a range of applications. Walter is responding with products like the WXN15 coated grade as well as other cutting tool inserts that capitalize on this growing trend.
These WXN15 grade coated inserts are all introduced with a highly positive shaped geometry, which is particularly effective in machining ISO N materials. When used in advanced cutter bodies like the new Xtra·tec® XT M5468 button insert milling cutter, with G88 geometry, this also increases productivity when performing machining operations on deep shoulders with excellent chip removal.
These WXN15 grade inserts are available in 77 varieties of insert shapes, sizes, and varying geometries, to fit all of the most popular Walter milling families. WXN15 coated grade inserts can be used for copy milling, face milling, ramping, pocket milling and circular interpolation milling.
Though engineered for excellence in aluminum machining, most inserts of this WXN15 coated grade are also effective on other non-ferrous materials as well as some steels, stainless steels, cast iron, and even materials with difficult cutting properties, including hard machining.