February 27, 2018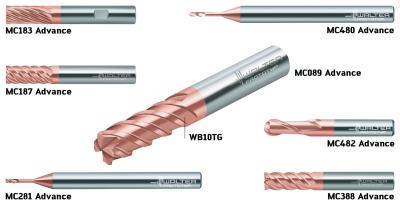 Walter has introduced its ISO H Advance Line of solid-carbide milling cutters, consisting of seven new cutter families specially tailored to the requirements of hard machining (up to 63 HRC). These new cutters include mini and multi-flute, shoulder/slot, ballnose and high-feed milling cutters, which cover the full range of solid-carbide milling. The new WB10TG grade achieves long tool life and excellent surface quality, and Walter's performance-enhancing geometry yields high metal-removal rates.
Suitable for a wide range of applications, the cutters can be applied for large or small components and for various milling strategies, such as roughing, finishing, high-feed milling and for machining 3D contours with the ballnose mill. Their superior properties make these high-end milling cutters for hard machining particularly beneficial for users with medium-sized batches and high-quality requirements. They are also suitable for users seeking high-performance and excellent price-to-performance ratio. Typical areas of application include die and moldmaking, as well as general metalworking.
The specific tool families are designated MC089, MC183, MC187, MC281, MC388, MC480 and MC482. MC089 is for high-feed cutting and prefinishing. MC183 is targeted at side milling and finishing and features a high number of teeth. MC187 is aimed at side milling, dynamic milling and finishing. MC281 features mini endmills from 0.04-0.16 in. (1-4 mm) with corner radius. MC388 is for both roughing and finishing and boasts universal usage for ISO H and ISO P machining. MC480 are mini ballnose endmills from 0.02-0.20 in. (0.4—5 mm) for copy milling of 3D contours. Finally, the MC482 family consists of ballnose endmills with two and four flutes for copy milling of 3D contours.