March 01, 2011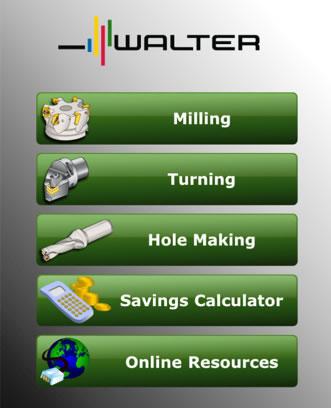 From accessing important tool data to placing orders online in the Walter Toolshop: Walter Tools & More app enables users to do both while on the move. From their iPhone, users can determine cutting parameters for tools for the required operation and also place their orders online. This new app developed by Walter is available free of charge in 23 languages. Calculate cutting data while being away from your desktop PC, Compare the cost efficiency of two tool solutions, Order tools and access rich online content from Walter.
The new iPhone application: Walter Tools & More, makes all this quick, convenient, and possible while on the go. Tools & More provides a user-friendly interface and a wide range of functions.
"With Walter Tools & More, customers benefit from our comprehensive machining expertise while they are on the move." says Andreas Evertz, Chief Executive Officer at Walter AG. "This demonstrates our aim to provide our customers, besides excellent products our comprehensive service which makes them even more efficient in their operations."
The app can be used to calculate the parameters for:
— Face, Shoulder and Slot milling processes
— Holemaking, including both Drilling and Boring
— Turning (ISO turning and grooving).
For these operations, the user can calculate the torque, driving power, machining volume, machining time, cutting force, metal removal rate and also chip thickness by selecting the material and entering different machining parameters. The calculator also takes the material group, rake angle, machine efficiency and wear factor into consideration.
The savings calculator provides quick and easy cost comparison between two tool solutions. Users can compare properties like: Costs for indexable inserts and bodies, the machine setting and the presetting hours, the spare machine capacity, as well as the savings per component and per batch or year. Walter Tools & More allows users to access a comprehensive package of web-based applications and websites.
The online resources include, among others, the TEC + CCS software from Walter, which assists the user with targeted search for the most economical solid carbide tool or HSS boring tool, threading tool or milling cutter from the competence brands Walter Titex and Walter Prototyp. After entering the relevant parameters such as application, material, machine and cutting data, TEC + CCS determines the best available tool solution, including possible alternatives. The result shown comprises not simply the cutting data, but also an associated cost calculation.
Using the app, the user can order the right tools online via the Walter Toolshop 24 hours a day. This solution provides a time-saving ordering process, access to entire range of standard tools, up-to-date stock information as well as a clear overview of the ordering and billing history. This solution also prevents an order from being entered twice.