July 06, 2017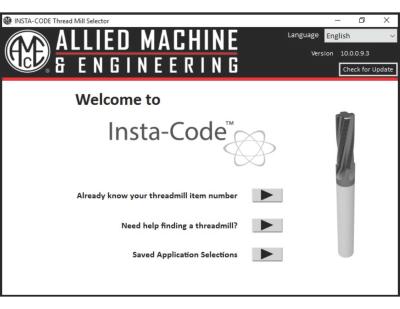 Allied Machine & Engineering announces its new Insta-Code thread mill programming software, now available for download. The software is designed to save shops valuable production time by simplifying thread milling program setup and providing pre-production data for planning purposes.
With the cycle time calculator built into the program, Insta-Code allows machinists to preview actual cycle times. If the thread mill item number is known, the software can create a program instantly. Insta-Code can also suggest the best thread mill product for an application, as well as provide internal and external thread programs for multiple machine controller types including Mazatrol, Siemens, Heidenhain, FANUC or ISO G-Code.
For those without internet access on their shop floors, the new Insta-Code thread mill programmer can be downloaded to a USB flash drive for direct installation onto computers. The ability to save custom programs and transfer them to various locations can also reduce production time.
Online version:
Generates thread mill G-Code programs
Available online 24/7
No log-in required
No updates needed
Easily share program code
Supported on all browsers
Download version:
Creates program code for multiple machine platforms
Suggest a thread mill based off of application details
Provides estimated cycle time for improved production
Available for use offline.
Available in multiple languages.
Download and open Allied_Machine_Insta-Code.zip, open, then click on setup.exe to install.
One click updates are available for online computers.
Offline version updates:
Update your offline Insta-Code software
Click here to download an updated .zip file, then transfer to the offline computer. Click "Check for Update" in your Insta-Code software and navigate to the downloaded zip file.
This allows you to keep all of your saved programs.