November 28, 2017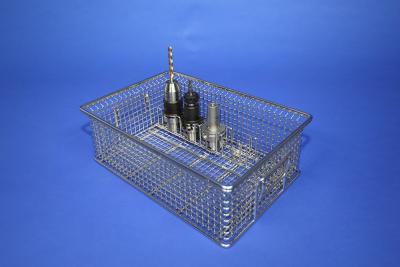 Whether it is drilling, milling or turning, residues from the machining are not only left on the part surface but also in the tools and fixtures. Cleaning of the latter is usually still done manually, even though cleaning of the manufactured parts is carried out in a cleaning machine. Specifically, for toolholders and tool fixtures, Metallform has developed inserts, which can be easily placed in standard cleaning baskets. They enable the fast, process reliable and economical automated cleaning, as well as transport of the assembled toolholder.
Clean toolholders significantly contribute to precision in machining. Therefore, it is surprising that fixtures are still frequently manually cleaned before the tools get replaced, because this process does not ensure that swarf and residues from processing media get removed reliably. Another disadvantage is the high demand on personnel and time caused by each manual process. Additionally, cleaning is usually performed with costly compressed air or brushes and a low flashpoint solvent such as benzine, although virtually every company that manufactures machined parts is equipped with a cleaning machine.
To clean the equipped toolholders also in the cleaning machine, Metallform has developed specific inserts for standard cleaning baskets such as the MEFO-BOX. The inserts are available for different tool fixtures, e.g. HSK, Conus, VDI and SBA, and can be adapted to the type and size of the holders. Fixation of the holder in the insert only takes place at uncritical areas.
Adapted to the size of the working chamber of the cleaning machine, the equipped tool fixtures can be placed vertically or horizontally – e.g. for deep-hole drills – in the insert. This also allows for placing the toolholder directly at the machine or machining centre into the insert and for transporting it safely to the cleaning machine. For cleaning, various and even different inserts can be placed in a MEFO-BOX or standard cleaning basket.
On the one hand, this makes the cleaning of toolholders faster and more process reliable. This is especially due to the open design of the inserts, which allows the cleaning medium and mechanics, e. g. ultrasonic waves or spray jet, to reach the toolholders freely from all sides. In order to improve the cleaning effect, the basket can be swivelled in the machine. On the other hand, automated cleaning increases efficiency. Staff that had been cleaning the tool holders manually can now spend their time with more productive work.
After cleaning and replacing tools the holders can be transported back to the metal cutting machine safely and without damages.
Like all cleaning baskets from Metallform, the inserts are made of stainless steel with an electrolytic polished surface. This high-quality material can be used with all cleaning media and ensures a long service life. The outer structure's rods are butt welded to avoid corners posing the risk of injury.