February 12, 2012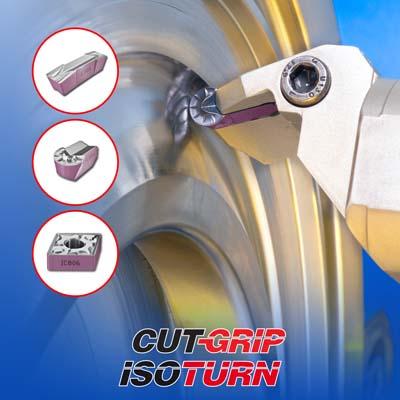 ISCAR is introducing the IC806 — a new complementary SUMO TEC PVD coated grade for machining high temperature alloys, especially Inconel 718.
Inconel 718 belongs to a family of nickel based superalloys which are used extensively for applications where withstanding high temperatures and high corrosion resistance is required. This material is widely used in the aerospace industry for components which are placed in the hot section of the engine; and in additional sectors of the oil industry. The major problems encountered when machining Inconel 718 are characterized by very high temperatures on the cutting edge of the insert due to the abrasive elements in the material composition (high nickel content of 50-55 percent and chrome 17-21 percent) which causes high wear rates, chipping, notching and insert breakage.
These factors contribute to reduced tool life and high deformation of the cutting edge even at low cutting speeds. ISCAR's aim is to effectively machine this unique material, and has therefore successfully developed the IC806, which is a submicron grade with superior wear resistant properties and advanced PVD TiAlN.
IC806 has a hard submicron substrate with PVD coating and a special post coating treatment which provides substantially improved tool life and better reliability.
Additional Products from Iscar USA