February 12, 2012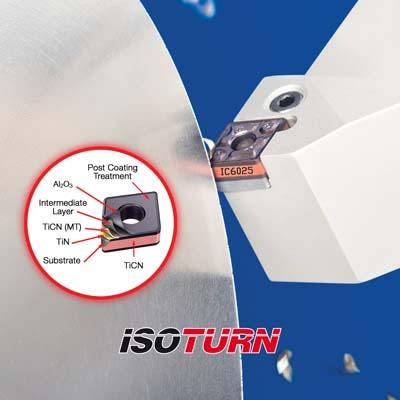 Following the introduction of grade IC6015, ISCAR is introducing an additional new, SUMO TEC CVD coated grade, IC6025, which was developed for machining stainless steel at moderate cutting speeds for stable or unstable conditions. The new grade IC6025 covers the application range of ISO (M20-35), used for roughing and interrupted cuts as well as applications at medium to low cutting speeds. It is composed of a cobalt enriched outer layer substrate, with MT TiCN and alpha aluminum-oxide coating with a special post coating treatment.
Although the coating process of the IC6025 is similar to that of IC6015, it differs with a tougher substrate, featuring a combination of high toughness and deformation resistance. The SUMO TEC MTCVD coating adds toughness, flaking and chipping resistance and thus provides very reliable performance.
The two new grades (IC6015 and IC6025) combined with the new chipformer configuration M3M provide a completely new standard for machining stainless steel. IC6015 covers the high speed machining area for continuous machining of stainless steel and high temperature alloys, while IC6025 is recommended for the interrupted cut applications.
ISCAR's new and innovative chipformer under the designation of M3M was designed especially for machining stainless and low carbon steel. In addition, it was designed with geometric features that improve the tool's life due to a reinforced cutting edge at the area where VG (notch wear) wear tends to occur when machining stainless steel, causing poor surface finish and risk of edge breakage. Additional geometric elements such as optimal positive rake angle feature a smooth cutting process and reduced cutting forces (by 5 to 10 percent), thus reducing the wear and dramatically increasing tool life. The M3M has a wide chipbreaking range.
Additional Products from Iscar USA