February 26, 2016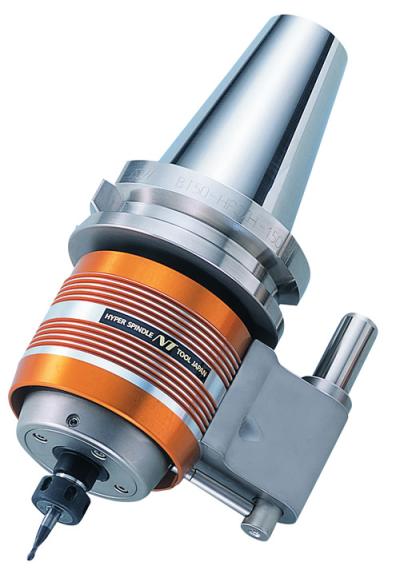 NT Tool's Hyper Spindles use a 1:5 ratio internal gear system to multiply the RPM of existing machines up to 5 times at the cutting edge, with a maximum of 30,000 min-1, according to a recent announcement from the Franklin, Tenn., company.
The holders allow operators to increase tooling revolutions and reduce cycle times with their current equipment, without the need to invest in new machines, according to the company. Since NT's Hyper Spindle does not use a pneumatic system requiring an air hose, it is fully compatible with ATC arms.
The Hyper Spindles are made with precisely ground steel gears to ensure minimal noise and vibration. A built-in cooling fan prevents overheating, allowing long, uninterrupted machining cycles without fear of breakdowns. Plus, every Hyper Spindle holder is manufactured with an electromagnetic rustproof coating that prevents the spindle from wearing abnormally, and allows the holder to maintain its accuracy throughout its tool life, according to NT Tool.
Like many of NT Tool's collet holders, the Hyper Spindles use the company's 12° taper FDC collets. By using a more gradual taper than 16° ER collets, FDC collets are said to grip the cutting tool more evenly, increasing gripping force and reducing slippage. The even grip also keeps runout below 5µm, whereas ER collets can only guarantee 10µm.
Hyper Spindles are available in CAT and BT shanks, with other shanks readily accommodated as custom orders. Collet sizes accommodate tool shanks as small as 0.5mm (0.020"), all the way up to 12mm (0.472").
Related Glossary Terms
collet


collet

Flexible-sided device that secures a tool or workpiece. Similar in function to a chuck, but can accommodate only a narrow size range. Typically provides greater gripping force and precision than a chuck. See chuck.