December 15, 2020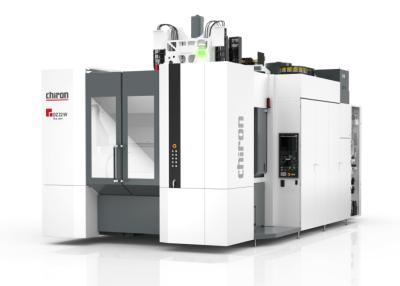 The new twin-spindle series DZ 22, with spindle clearance of 600 mm, is designed to completely and rapidly machine complex, large workpieces, including housings for electric motors and transmissions, oil pumps, chassis components, and more. CHIRON introduced the DZ 22 W five axis at its virtual open house in May. The company also offers a 4-axis variant of the Series 22.
According to the company, the Series 22 combines both high-speed and high-precision processing for complete production of even large high-precision components. Featuring two workpiece-changing table variants, part capacities are generous - the 4-axis trunnion plate version handles 680 mm x 1,330 mm dia., up to 600 kg; and the twin-spindle 5-axis version handles 2 x 599 mm x 340 mm dia., up to 150 kg.
Key to success of the small-footprint innovative machine concept is a machine platform using a moving gantry design. The rigid machine bed and active component cooling enable the required degree of precision on the workpiece. High acceleration -- X-Y-Z max. 10-10-17 m/s² -- in all axes and rapid response to programming inputs ensure dynamic machining as never before seen with workpiece dimensions of this size range. Axis travel distances are X-Y-Z max. 620-650-600 mm and rapid traverse speeds X-Y-Z max. up to 120-120-90 m/min.
In addition to precision and dynamics, Series 22 also offers impressive flexibility. From very complex workpieces or product series with many different tools: The magazines offer space for up to 77 tools and, thanks to the integrated workpiece changer, the workpieces are loaded and unloaded during machining, saving cycle time. Tool change time from 3.1 sec., chip-to-chip.
Spindle options – one fast, one strong
Depending on the processing task, two different main spindles are used in Series 22: a fast spindle with a speed of up to 20,000 rpm and a torque of up to 137 Nm for workpieces made of aluminum or aluminum alloys. Or a strong spindle with a speed of up to 12,500 rpm and a maximum torque of 200 nm for hard materials and large tools. The 22 series is also available as an HSK-A100 machine for further stability and performance.
Simple, clear access
The working area is easily accessible, and the process easy to see through large glazed doors. The control panel is located directly next to the working area, making set-up easier. The new machines are operated easily and according to context via the Chiron TouchLine operating system.
On the back, the tools are inserted in the chain magazine, and the tool data can be entered here directly via the operating console. Tool replacement is carried out during machine operation; the new tool is clicked into the magazine with a single movement of the hand.
Modular design, application-oriented
Series 22 is available with a ball screw drive or a linear direct drive. You can also choose from two plate variants: A suspension plate for four-axis machining or two face plates for five-axis simultaneous machining. All models can also be equipped according to the application with a cooling system, suction unit, chip conveyor, individual tool packages and more.
To maximize uptime, Chiron develops individual automation solutions with the customer. The solutions range from robot loaders to pallet handling systems.
Even better with Chiron SmartLine
To tap the full potential of digitalized production, Series 22 is prepared for the integration of various SmartLine modules to optimize productivity, product quality, and machine availability.
ConditionLine: Early detection of non-typical operating behavior and targeted planning of maintenance and repair
ProcessLine and ProtectLine: Reliable protection against machine crashes with a digital twin, both in preparation and during running operation. The machine operator is only shown those functions that are useful in the particular operating situation. TouchLine also offers enormous expansion possibilities, and Chiron is working on many features that will help customers exploit the potential of highly productive machining centers.
Optimized machine assembly and logistics processes for shorter delivery times
The machining centers are built in the new Chiron Precision Factory in Neuhausen, Germany, and are characterized by maximum precision and faster availability. The machines are produced in a cluster assembly process – one team, one machine – in shorter cycles. For each order, the optimized processing saves about two to three weeks of time, so that customers can get started with production sooner. And better too, thanks to advance simulation of processes: All machining which is later carried out on the machine can be programmed, simulated and optimized right in the Chiron Precision Factory.
"To assemble a machining center that combines maximum productivity with the highest precision, you need a factory that is ideally suited to it. The design and construction of the CHIRON Precision Factory therefore went hand in hand with the development of our new 16 and 22 series machines. The primary goal was to create an optimal assembly environment for the state-of-the-art machining centers right from the beginning. We were able to optimally plan and implement material flow, temperature control, cranes and much more," said Bernd Honold, Project Manager Operational Excellence at Chiron.