October 15, 2019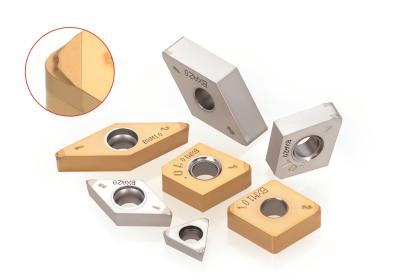 Tungaloy expands its -HP geometry line of T-CBN inserts that ensures effective chip control in finish turning of hardened steel parts.
The -HP geometry provides reliable chip control in finish cutting conditions at cutting depths of 0.2 mm (0.0079") or smaller, minimizing part quality damages caused by poor chip control.
Twenty-two additional –HP geometry T-CBN inserts are now available which further increases the chipbreaker application range in hard turning.
At a Glance
Innovative chip former ensures good chip breakage and smooth chip control
Free cutting geometry eliminates bar deflection and vibration during machining
Built-in wiper ensures better surface quality and chip control
Available in BXM10 for continuous cut and BXA20 for interrupted cut
Total of 22 inserts to be added
Additional Products from Tungaloy America Inc.