October 01, 2021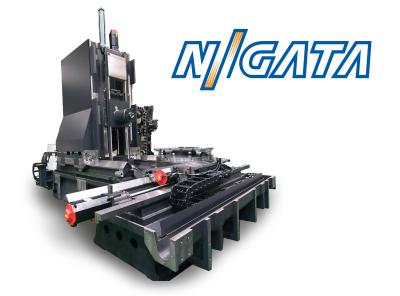 Niigata Machine Techno USA, Inc.'s HN800-V HMC offers the performance of a high-speed jig borer with minimal investment increase over traditional HMC's.
The HN800-V is uniquely built with the rigidity and accuracy necessary to perform ultra-precise contour machining and boring of components with critical tolerances. The world's first machining center to feature hardened and ground inverted V-shaped slideways, the HN800-V achieves volumetric accuracy of .00005" per foot. The V-shaped slideway system converts the weight of the column unit into restraining force on the sliding unit. This restraining force provides superior stability, long-term axis straightness of motion that virtually eliminates pitch & yaw motion. The combination of hand-scraped slideways and hardening-processed slide guides maximize the machine durability.
The V-shaped slideways, consisting of anti-abrasion material, also contribute to the high-speed performance of the machine. Achieving rapid traverse of 50m/min (1968 ipm for productivity.
For extreme stability, this V shaped Slideway machine features a solid meehanite cast iron frame with extensive ribbing. Further contributing to precision performance is a powerful and rugged geared high torque spindle. It is constructed with seven sets of wide-spaced, super precision angular contact and roller bearings. The spindle head stock utilizes a mono-cast (single piece) casting to achieve heavy and powerful milling capability and greater stability than bolt-together type spindle heads.
The HN800-V's pallet clamping system utilizes a stable clamper plate to ensure optimum down force and increased clamping forces of the pallet during extreme cutting conditions. Jets of air discharge from the tapered cones when the pallet is changed to ensure proper clamping and to cleanse seating surfaces.
The HN800-V offers 1530mm (60.2") X-axis travels, 1230mm (48.4") Y-axis travels, 1020mm (40.2") Z-axis travels, and a B-axis rotary angle of 360,000 positions. Maximum workpiece swing diameter is 1750mm (68.9"), the largest work envelope in its class. Maximum workpiece height is 1400mm (55.1").
As the horizontal machining center specialist, Niigata's world-class high throughput solutions feature high accuracy, high rigidity, and high-speed. The wide range of models offer heavy-duty V-shaped slideways, boxway, roller guide and hybrid (boxway and roller guide) machines, work envelopes to 1600mm. For versatile machining, Niigata also offers a 5-Axis Series, a FC Series with U-axis and quill for single set-up combined turning operations with machining center operations, and a Bar/Quill Series. Many optional features are available, including Niigata pallet magazine systems.