August 01, 2015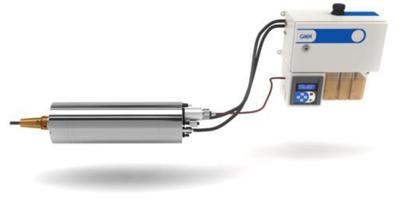 GMN says its new range of high-speed spindles with highly efficient hydroviscous damping reduces natural vibrations by up to 65 percent in comparison with standard spindles. This makes for more cost-effective workpiece machining, since components can be worked consistently with greater cutting depths and therefore higher material-removal rates. Improved surface quality is obtained at all speeds, not only for rough-machining, but also during the finishing process and grinding.
The new high-speed spindles are characterised by a vastly improved dynamic stiffness, according to Dr.-Ing. Bernd Möller, Head of Development & Construction at GMN: "Thanks to the hydroviscous system, damping of natural vibrations is enhanced considerably. In the axial direction, it was possible to achieve an improvement in dynamic stiffness, for example, of up to 135 percent. This results in significantly reduced natural vibrations in the machining process, enabling the production of components of very high quality."
When using standard spindles, on the other hand, high machining forces often lead to "rattling" caused by insufficient damping of natural vibrations. Such loud noises are symptomatic of the strong impulses generated by natural vibration. Potential serious consequences include rough, partly scratched surfaces, uneven cutting edges, widened grooves through to fractured workpieces, and even spindle failure.
An investigation by the Laboratory of Machine Tools and Production Engineering (WZL) at the Rhine-Westphalia Institute of Technology Aachen concluded that it was possible to double the minimum stable cutting depth at speeds between of 10,000 and 18,000 rpm with the high-speed spindle HCS 280 – 18000/60 with HSK-100. When using spindles with hydroviscous damping, consistently good surface results were obtained up to a plunge depth of 6mm, even at unfavourable speeds. Conversely, a depth of only 3mm was achieved using a standard spindle under the same conditions.
Surface quality was also noticeably improved for internal cylindrical grinding and surface grinding. Under production conditions at GMN's own manufacturing facility, for example, a hydroviscously damped spindle produced a roughness of only 0.89 µm compared with 2.36 µm using standard models.
The new high-speed spindles are independently driven by their own small, energy-saving hydraulic power unit. In addition, the bearing preload of the spindle can be controlled via the oil pressure. In this way, the rigidity of the spindle can be modified and therefore its behaviour optimised depending on machining task, speed, and tool. Increased preload can, for example, be used to significantly improve spindle performance at lower speeds.
The new spindle models with hydroviscous damping are available for machining centres for use in milling and drilling operations as well as for grinding machines. Because they are structurally identical to the standard models, they can also be easily retrofitted to existing machines.
GMN has carried out exhaustive field tests on hydroviscously damped spindles at the machining centres of an Italian manufacturer. Their customers have used the new spindles to produce components for the aviation industry, for example, and are completely satisfied. Development and Construction head Bernd Möller has also received positive feedback from GMN's in-house production: "Personnel operating the grinding machines were reluctant to hand back the new spindles following the trial runs."