April 13, 2013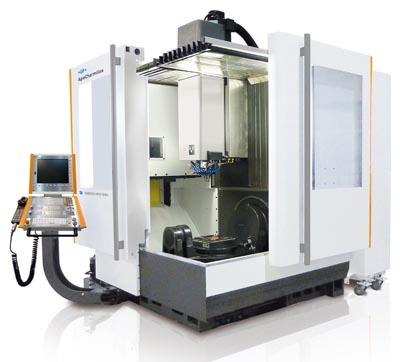 Ideal for machining aluminum, alloy and steel parts, the 5-axis HEM 500U from GF AgieCharmilles features a highly dynamic 12,000-rpm spindle and 30-tool magazine that provides a 2-second chip-to-chip time for high-speed continuous milling operations and increased spindle uptime. Additionally, a 20,000-rpm spindle and 60-tool changer are available.
The machine's trunnion table measures 19.7" (500mm) in diameter and accommodates workpiece weights up to 440 lbs. (200 kg). It tilts +50mm/-110mm in the B-axis and rotates 360 degrees in C for 3 + 2 machining as well as 5-side positioning. Axis travels in X, Y and Z measure 19.7" (500mm), 17.7" (450mm) and 15.7" (400mm), respectively, while a distance of 5.9" (150mm) between the machine spindle nose and rotary table surface allows for ample maneuverability around workpieces.
The HEM 500U relies on a new Heidenhain iTNC 530 control for quick and reliable machining. This versatile, workshop-oriented control for 5 (3+2) axis machining features an integrated digital drive control with integrated inverter, enabling it to produce a highly accurate workpiece contour while machining at high velocity. The HEM 500U also comes equipped with smart machining modules that provide advanced levels of monitoring critical to part production.
Related Glossary Terms
gang cutting ( milling)


gang cutting ( milling)

Machining with several cutters mounted on a single arbor, generally for simultaneous cutting.

milling


milling

Machining operation in which metal or other material is removed by applying power to a rotating cutter. In vertical milling, the cutting tool is mounted vertically on the spindle. In horizontal milling, the cutting tool is mounted horizontally, either directly on the spindle or on an arbor. Horizontal milling is further broken down into conventional milling, where the cutter rotates opposite the direction of feed, or "up" into the workpiece; and climb milling, where the cutter rotates in the direction of feed, or "down" into the workpiece. Milling operations include plane or surface milling, endmilling, facemilling, angle milling, form milling and profiling.