August 08, 2017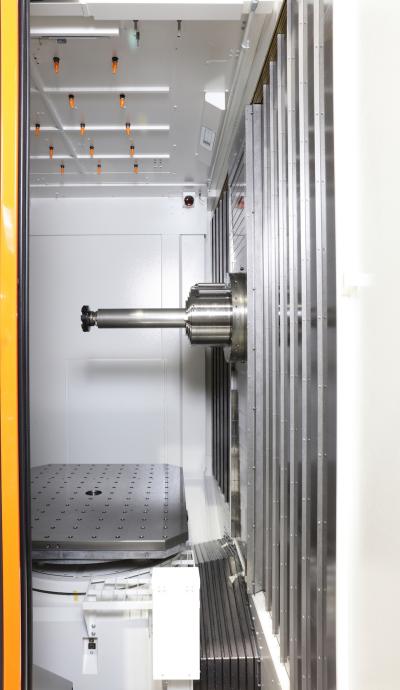 The HCN-16000Q horizontal machining center from Mazak Corp. features a double-column, quill-head design that enables the machine to perform the operations of both an HMC and a traditional boring machine. This means the machine provides processing flexibility and helps reduce part setups because it allows manufacturers to perform both deep bore and milling applications all on the same machine platform.
"In today's manufacturing world, it is essential to have the most innovative and productive equipment possible," said Brian Papke, chairman of Mazak Corp. "As a manufacturer ourselves, we continue to invest in such equipment for our own operations so that we can quickly deliver the most advanced machines to our customers. The recently installed quill machine is a perfect example of this."
As the first in Mazak's series of HCNs with quills, the HCN-16000Q is available in single table (open or covered) and two-pallet machine configurations. It is well suited for part production in the oil and gas industry, construction equipment, mining and farm equipment or any part production in which customers want the speed and accuracy of a Mazak horizontal machine plus the quill for long reach milling and boring operations.
For stability, reliability and accuracy, the HCN-16000Q's double-column design centers the quill head to eliminate potential problems resulting from overhang or imbalance, which are typically associated with traditional boring machines. Mazak's double column also features a twin ballscrew-driven Y-axis that eliminates the need for any type of counterbalance mechanism. This ensures fast, precise and smooth Y-axis stroke extension and retraction.
The Mazak quill features a built-in motor, high-torque, direct-drive, 50-hp (37-kW) spindle that puts out 1,000 ft.-lbs. (1,357 Nm) of torque. Mazak equips the quill with linear drive guides, as well as both angular contact and roller-type bearings. Roller bearings in the front of the spindle provide stability against strong side forces from face milling or heavy roughing, while the angular contact bearings in the back support the quill's Z-axis thrust for heavy duty boring and drilling operations.
Standard tool capacity of the HCN-16000Q is 80 tools with options to increase that to 120 or 160 or incorporate Mazak's Tooltech system. Also available is a tool changing system specifically for handling larger sized tools. The changer mounts to the machine's pallet changer and quickly moves larger size tools in and out of the machine to speed exchanges and reduce non-cut times. Mazak also offers the machining center with an automatic attachment changer that further boosts part processing flexibility through the use of various special operation attachments such as angled heads, U-axis boring tools and facing heads, U-axis OD turning heads and snout heads.
The HCN-16000Q's 49.2" X 63.0" (1,250 mm x 1,600 mm) pallets accommodate workpieces up to 118.11" (3,000 mm) in diameter, 78.74" (2,000 mm) high and weighing as much as 17,636 lbs (8,000 Kg) (two-PC model) and 22,046 lbs (10,000 Kg) (single table model). Machine axis travels measure 110.236" (2,800 mm) in X, 63" (1,600 mm) in Y, and 72.834" (1,850 mm) in Z, while the quill W-axis feed stroke is 21.653" (550 mm).
The HCN-16000Q can be added to existing manufacturing cells, including those with dissimilar machines, such as the Mazak e-Vertical and Integrex series of machines. When the machine is part of an automated Mazak Palletech cell, it further increases the cell's overall versatility with Done In One processing with the addition of deep boring and U-axis machining capabilities.