August 12,2021
Related Glossary Terms
computer-aided manufacturing ( CAM)


computer-aided manufacturing ( CAM)

Use of computers to control machining and manufacturing processes.

feed


feed

Rate of change of position of the tool as a whole, relative to the workpiece while cutting.

turning


turning

Workpiece is held in a chuck, mounted on a face plate or secured between centers and rotated while a cutting tool, normally a single-point tool, is fed into it along its periphery or across its end or face. Takes the form of straight turning (cutting along the periphery of the workpiece); taper turning (creating a taper); step turning (turning different-size diameters on the same work); chamfering (beveling an edge or shoulder); facing (cutting on an end); turning threads (usually external but can be internal); roughing (high-volume metal removal); and finishing (final light cuts). Performed on lathes, turning centers, chucking machines, automatic screw machines and similar machines.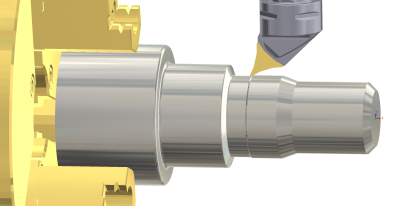 HCL Technologies (HCL), a leading global technology company, today announced the release of HCL CAMWorks 2021Plus, with support for Sandvik Coromant PrimeTurningTM, multiple technology databases and new tutorial task panes.
HCL CAMWorks 2021Plus is one of the first integrated CAM systems to support Sandvik Coromant's PrimeTurningTM, which uses CoroTurn® Prime Type-A and Type-B tools in conjunction with unique toolpaths to achieve increased feeds and speeds, shorter cycle times and longer tool life. PrimeTurningTM offers the flexibility for turning operations in all directions. The shape of the CoroTurn® Prime tool inserts, combined with toolpaths that turn in the opposite direction than a conventional turning process, makes it possible to achieve a much smaller entry angle and better chip control. This allows the machine to achieve a higher feed rate – typically 2 to 3 times faster than conventional feed rates – while still maintaining the same close tolerances and quality finishing. The direction of the toolpaths provides the ability to machine right up against a 90-degree shoulder on parts. PrimeTurningTM also significantly extends tool life by spreading load and high heat over a longer distance, which extends tool life up to 500% longer than using conventional turning methods.
HCL CAMWorks 2021Plus offers the ability to save and use multiple technology databases, or TechDBs, to capture preferred machine settings, tools, and operation details in a customized TechDB. These preferences can then be re-used by simply accessing the TechDB, instead of having to re-enter each of these settings. With CAMWorks 2021Plus, this has been extended to provide users the ability to save and manage multiple TechDBs from within the application. Users can easily switch between different TechDBs to match the preferences to be used in different situations.
HCL CAMWorks 2021Plus version also includes a new tab in the SOLIDWORKS task pane, which opens to Home, Learn and Alerts tabs. The Home tab provides CAMWorks users with access to information on promotional offers, customer stories, upcoming webinars and other announcements. The Learn tab gives easy access to CAMWorks tutorials, tips & tricks, and how-to videos. The Alerts tab supplies access to view and download software updates.