June 01, 2011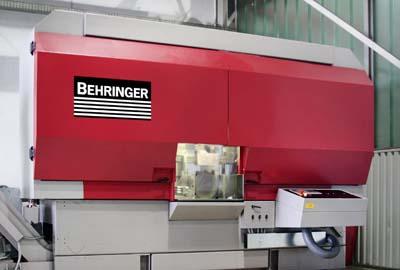 Behringer is heralding a major turning point in the field of high-performance band sawing. In terms of cutting output, downtimes and speed, the revolutionary new Speed-Cutting concept used for the first time in the HBM400SC leaves existing band sawing technology well and truly in the dust. This revolutionary new system is the symbiosis of innovative machine technology and newly developed tools.
The HBM400SC is an automatic high-performance band saw whose enormous cutting output makes it ideally suited for the economical, precise cutting of different solid metal materials. It is capable of whipping through high piece numbers at impressive speed, and its cutting range of 400mm in round and 400 x 400mm in flat material make it extremely flexible in application.
To make full use of the enormous potential offered by SC technology, stringent demands were made on the machine concept, in particular the degree of automation. Behringer supplies individually tailored one-stop solutions such as fully automatic infeed and discharge devices, roller conveyors and transverse conveying systems, as well as the facility to link the HBM400SC up to different storage systems. The company's own plant engineering department is capable of configuring the ideal periphery for any individual customer requirement. All the components contained in the plant can be integrated in the control system, giving the term Speed Cutting a significance above and beyond the actual sawing process itself.
Compared to today's band sawing technology, the HBM400SC offers an extraordinary cutting output. Conventional band sawing machines fitted with a bimetal saw blade, for instance, are capable of cutting solid 16MnCr5 material with a diameter of 150mm at a cutting output of around 80 sq.cm/min. Using a carbide-tipped blade, this can already be increased to around 130 sq.cm/min. But using the Speed Cutting technology installed in the new HBM400SC, the approximate output achieved is an amazing 500 sq.cm/min. While a conventional band saw with bimetal saw blade takes 150 seconds to make one cut, the new HBM400SC slices through the same assignment in just 21 seconds. This means that a single machine can replace a complete sawing machine pool.
A specially developed band saw blade ensures stability and extreme cutting accuracy. By cutting the thickness of the blade to just 1.1mm, the cutting forces per tooth are reduced. This results in a narrower kerf of just 1.7mm instead of the customary 2.3mm. If we consider the material saved by this modification, this technology offers enormous potential for savings over conventional band sawing technology. All the features of the new HBM400SC were consistently adjusted to the machine's performance potential. Changes included consistent further development by the Behringer engineers of the cutting pressure control system with servo feed familiar from the Behringer HBM series. This combination ensures a constant feed movement on the one hand, while at the same time the precise cutting pressure control system prevents overload of the saw blade.
All major components are also made of vibration-damping cast material, a combination which takes care of quiet running during cutting operation, even at high speeds. Where a lot of sawing happens, there will be a lot of chips. The chips produced during high-performance sawing have to be removed from the cutting area with the utmost efficiency. An optimized chip cleaning system transports the entire produced chip volume directly and reliably into the chip conveyor located in the machine bed. The conveyor is also dimensioned for substantially higher chip volumes. With a new SC kit, the findings gathered from the HBM400SC have been implemented in the form of an extended carbide package. This technology transfer to an existing machine has proven highly successful. The result: improved cutting performance and a longer tool life.
Around a seven-fold reduction in cycle times, an up to 30 per cent reduced cutting channel, consistently high chip removal, neat cut surfaces and short waste offcuts are additional arguments in favour of this technology. Upgraded with the SC package, a high-performance HBM440A bandsawing machine, for instance, is able to cut round material of 18 Cr Ni Mo 7-6 with 650 N/mm2 and a diameter of 420mm with cutting output of 750 cm2/min. Internally performed cutting tests have actually returned a saw band life in excess of 10 m2. For this, a carbide tipped 6700 x54 x 1.3mm saw band is used. In a different application, using the same saw band the material 42 Cr Mo S 4 V with a 290mm diameter can be sawn in just 1.8 minutes. This corresponds to a three-fold increase in output compared to customary values achieved in the past. But the SC kit not only offers benefits when using carbide tipped saw bands.
For bi-metal saw bands too, it offers benefits in terms of a 30 percent performance increase and a longer service life. This is made possible by the combination of different features which characterize the SC kit. Everything is designed to withstand higher levels of strain, starting with the saw frame of the HBM machine. The optimal flow of forces in the saw frame makes for optimum band clamping forces, and the saw band guides are ideally adjusted to their assignment. With 26 kW, the drive is designed to ensure that high torque over a wide speed spectrum delivers optimum results, for example when working with materials with difficult cutting properties. A cutting pressure monitoring system connects the servo technology with a cutting force control. The result: consistently high chip removal, higher stock removal ranges overall than with conventional systems, and reliable protection of the saw band from overloading. The result: reduced tool costs and a longer band service life. The newly developed band guides are fitted with nozzles which spray the cooling emersion directly into the kerf. A high-performance coolant pump with a higher delivery volume ensures that the tool and material remain cooled at all times. As a high sawing output creates a high volume of chips, a particularly good chip flow concept is essential. Behringer designed the whole machine with this in mind.
"After all, efficient chip disposal is a fundamental requirement for process reliability in high-performance saws," explains CEO Christian Behringer. The saw band is cleaned of adhering chips by two automatically adjusting duplex brushes. The hopper-shaped machine stand guides the chips directly into the trough below the machine. In most cases, excellent cutting outputs at the same time make more stringent demands in terms of the machine's automation level. "The machine's potential cannot really be fully utilized with automatic infeed and discharge systems," explains Christian Behringer.
As a complete system supplier, Behringer GmbH also supplies ideally coordinated, hard-wearing infeed and discharge peripherals specifically tailored to the customer's requirements. High-performance circular saw HCS 160 multifluid from Behringer Eisele also provides perfect mass cutting performance. Impressive features include a new machine frame and optimized chip disposal. When it comes to the division of high alloyed heat resistant steels bigger than 1200 N/mm2, the new HCS 160 has all the answers. It provides the ideal hybrid of tried and tested saw technology coupled with a high degree of variability and adaptability. In line with the specific machining assignment and saw cutting requirements, a range of special possibilities are offered: From workpiece cooling using emulsion through the use of wide-ranging different microspray devices to active saw blade cooling for dry cutting applications. The high-performance circular sawing line is configured for workpiece diameters of up to 160mm. The standard speed range of 20 to 250 rpm opens up scope for almost any type of sawing assignment even with the basic equipment outfit. The entire machine concept has been optimized to permit extended functionality for wet and dry cutting. A new chip conveyor with integrated coolant pump, for instance, ensures the rapid disposal of produced chips. When wet cutting, a trough integrated in the machine frame reliably catches the cooling lubricant emulsion.
The specialists at Behringer Eisele also opted to make the entire machine concept more rigid with a view to improving vibration dampening. This provides a substantial bonus in terms of saw blade lifetime coupled with an improved cutting surface for precise, rapid cuts, whether working wet or dry. As a fully automatic high-performance circular saw, the new HCS 160 still focuses on maximum yield, but without neglecting production-specific, flexible integration into downstream production processes — after all, a high degree of material handling flexibility is vital in allowing adjustment to today's continuously changing markets. Wide-ranging different infeed and discharge systems and link-up to magazines and storage systems, for instance, ensure independence from set night and day shift working — with the assurance of absolute process reliability. Where a lot of sawing goes on, a lot of chips are produced. The chips produced by high-performance saws have to be disposed of as efficiently as possible from the cutting area. An optimized chip cleaning system reliably transports the occurring chip volumes directly into the chip conveyor located in the machine bed. This is also dimensioned on a significantly larger scale.