May 20, 2020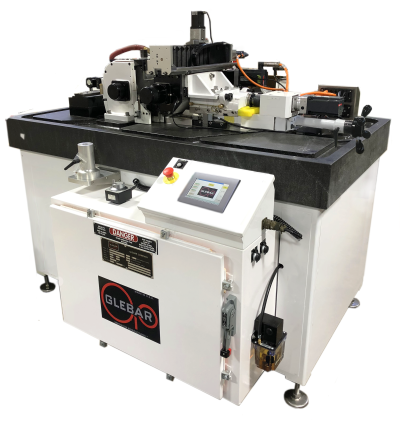 Driven by its solution-oriented leadership, and skilled engineering staff, precision centerless grinding solution provider Glebar Company developed a new machine platform capable of processing carbide cutting blanks. Noticing market studies that indicated a healthy growth cycle in the specialty carbide cutting tool industry, especially in the aerospace sector, Glebar went to work innovating a new manufacturing process.
Grinding carbide is challenging as it is one of the hardest materials on Earth, ranging in hardness between 65 and 85 Rc. After sintering, carbide has a rough surface finish and chips easily making it difficult to grind.
To grind carbide parts, an operator will thrufeed a part across a narrow grinding wheel, applying more pressure wearing the wheel out faster. Due to the narrow work wheel, multiple passes are required occupying skilled operators and accelerating wear on the grinding machine and on the tooling. Legacy machines are extremely large in comparison to the small diameter of the carbide cutting blanks and take up valuable square footage on the manufacturing floor.
Glebar was challenged to deliver a process to grind carbide cutting blanks. Following a customer's spec, the processes needed to maintain cylindricity of 2 microns over a 4" long part. Glebar delivered with its innovative GT-610 EZ Centerless Grinding Machine. The GT-610 EZ excels at thrufeed grinding hard materials such as steel, carbide, PCD inserts, and technical ceramics while operating on a much smaller footprint than the competition.
"The GT-610 EZ uses a proven twin grip 8-5/8" wide grinding wheel setup spreading the material removal over a longer span which results in higher throughput, less aggressive approach reducing chipping, and a smoother overall surface finish " explained John Bannayan, Chief Technical Officer at Glebar Company.
Another unique feature of the GT-610 EZ is its ability to produce G-ratios that can exceed those of machines twice its size. When running super abrasives, a variable frequency drive on the work wheel spindle is available to increase wheel surface feet.
In this application, on the 0.750" diameter carbide blanks the roughing operation removed 0.012" and the finish pass removed 0.003" improving on the 2 Rz surface finish requirement. Glebar met the customer's cylindricity spec of 2 microns over the 4" long part. The straightness and roundness of the parts were sub 1.5 microns.