June 12, 2012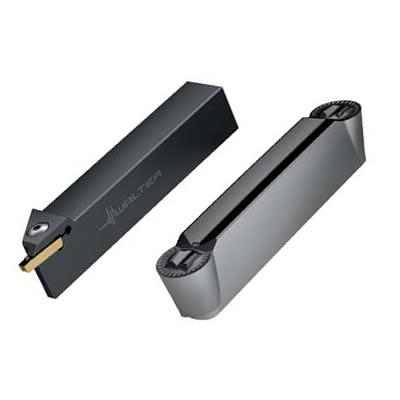 Walter USA, LLC has announced a series of enhancements to its line of grooving products. Heading the bill is the RF8 profiling insert, which features excellent chip control and a precision ground, sharp cutting edge designed for difficult to machine materials.
While this geometry is excellent for stainless steel, high temperature alloys, and steels, it is also good on all materials where a light depth of cut is required, which in turn makes chip control more challenging. It also reduces cutting forces on thin or unstable components. The RF8 undercuts up to 230 degrees processing angle and provides a very high level of surface quality.
The CF6 cutting tool insert geometry, a key part of this product line extension, also has light cutting forces and is excellent for small parts and thin wall tubes. The new 1.5mm insert, combined with the 10 degree lead angle for reduced pip and burr formation makes this a very effective system for parting off.
Walter has also announced the introduction of inch dimension grooving and groove turning inserts in the tough new Tiger-tec Silver grades WSM33S and WSM43S. The UF4 geometry for grooving and groove-turning, RD4 geometry for radius grooving and profiling, and new 1.5mm wide parting off inserts with 10 degree lead angle for reduced pip and burr formation.
Additional toolholders in the grooving system now available as part of this product line enhancement include: G1011 grooving and cutoff toolholders with ½-in. or 5⁄8-in. shanks, and 1-in. shank tools with increased depth of cut up to 1.26-in.; G1111 face grooving tool holders for face groove diameters from 1.3-in. to 19.7-in.; and G1511 and G1521 tools for snap-ring and O-ring grooves, which are capable of both radial and face grooving operations for groove depths up to 0.236-in.