September 07, 2019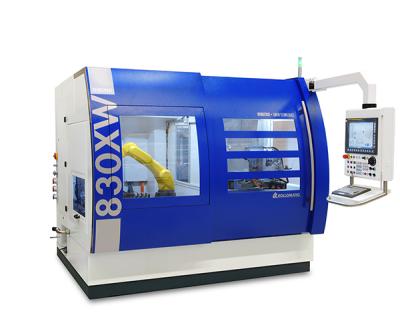 The GrindSmart 830XW from Rollomatic integrates the innovative combination of hydrostatic technology and linear motors to produce both large and small tools from 1 mm to 32 mm diameter and flute lengths of up to 200 mm.
The 6th axis of the GrindSmart 830XW opens up new options for pioneering innovations in tool design, particularly where high-precision tools are required. The arrangement of the grinding spindle axis on this machine enables an extreme freedom of movement on both sides via a total rotation angle of 240°. This means that both right-hand and left-hand tools can be ground with the same wheel pack. The 6th axis also makes it possible to tilt the grinding wheels during grinding. Thanks to the increased flexibility and freedom of movement, it is also much easier to grind the radii and reliefs of complex tool geometries.
In addition, the 6th axis ensures that the contact point on the grinding wheel remains constant at all times, which achieves precision measurements for the finished tool. Rollomatic's solutions for unattended production are an additional process that has been carefully integrated into this machine to allow hours-long manufacturing without any operator intervention.
Related Glossary Terms
grinding


grinding

Machining operation in which material is removed from the workpiece by a powered abrasive wheel, stone, belt, paste, sheet, compound, slurry, etc. Takes various forms: surface grinding (creates flat and/or squared surfaces); cylindrical grinding (for external cylindrical and tapered shapes, fillets, undercuts, etc.); centerless grinding; chamfering; thread and form grinding; tool and cutter grinding; offhand grinding; lapping and polishing (grinding with extremely fine grits to create ultrasmooth surfaces); honing; and disc grinding.

grinding wheel


grinding wheel

Wheel formed from abrasive material mixed in a suitable matrix. Takes a variety of shapes but falls into two basic categories: one that cuts on its periphery, as in reciprocating grinding, and one that cuts on its side or face, as in tool and cutter grinding.
Additional Products from Rollomatic