March 05, 2019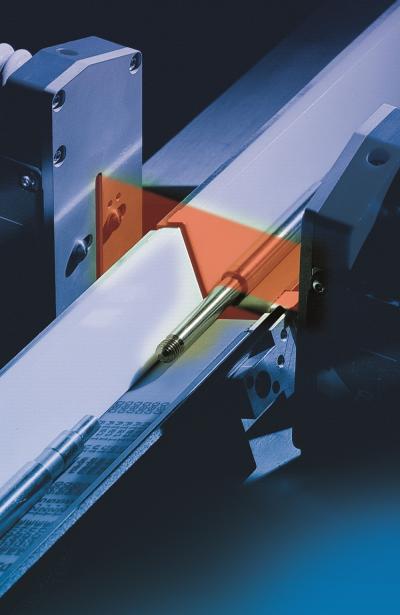 Marposs offers the Grindline laser measuring system for on-line gauging of parts produced by centerless grinding machines such as pins, shock rods, steering racks or other parts needing a single- or multiple-diameter check. These systems prevent machining of out-of-tolerance pieces to reduce scrap, save time and help companies achieve zero-defect production.

The Grindline systems are installed at the output of the grinders. After the machining process, parts are blown clean of water and oil and then passed through a laser beam that registers hundreds of measurements along the axis of the component. Signals from the gauge are processed by the software, which is able to extract data that pertains only to ground features, ignoring grooves, threads or other shape irregularities. This information is then compared to the pre-set nominal value and if the process drifts out of the pre-set limits, the Grindline software automatically adjusts the grinder to compensate for wheel wear and keep the product within the desired tolerance limits.

Measurements are stored and processed in real time. By connecting a standard printer to an Aeroel CE-200 panel, statistical reports can be generated for each operator-selected batch. Additionally, by using an Ethernet or RS-232 serial line, a remote computer can be used to download the measured data or to program the system.

Key features of the Grindline system include through-feed measurement and display of the ground diameter; tolerance checking and alarms for part sorting; real-time grinder regulation; statistical reports; and NO-VAR technology ensuring there is no measuring drift due to changing room temperatures.
Related Glossary Terms
centerless grinding


centerless grinding

Grinding operation in which the workpiece rests on a knife-edge support, rotates through contact with a regulating or feed wheel and is ground by a grinding wheel. This method allows grinding long, thin parts without steady rests; also lessens taper problems. Opposite of cylindrical grinding. See cylindrical grinding; grinding.

grinding


grinding

Machining operation in which material is removed from the workpiece by a powered abrasive wheel, stone, belt, paste, sheet, compound, slurry, etc. Takes various forms: surface grinding (creates flat and/or squared surfaces); cylindrical grinding (for external cylindrical and tapered shapes, fillets, undercuts, etc.); centerless grinding; chamfering; thread and form grinding; tool and cutter grinding; offhand grinding; lapping and polishing (grinding with extremely fine grits to create ultrasmooth surfaces); honing; and disc grinding.

tolerance


tolerance

Minimum and maximum amount a workpiece dimension is allowed to vary from a set standard and still be acceptable.