October 01, 2011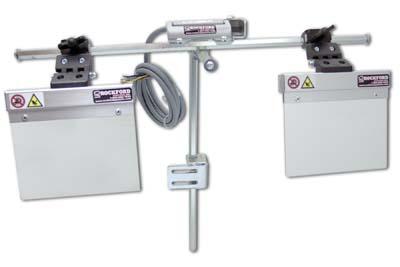 Rockford Systems Inc. has introduced a new line of electrically interlocked heavy-duty grinder and tool grinder shields. The use of these electrically interlocked grinder shields goes beyond OSHA and ANSI safety requirements, according to the company.
These electrically interlocked shields are ideal for single- and double-wheel grinders. When the shield is swung out of position, the positive contacts on the microswitch open, sending a stop signal to the machine control. The safety microswitch electrical wires are furnished with a protective sheath and connect to the safety circuit of the machine that switches off the control to the movement of the grinding wheel. All safety microswitches are mounted in an enclosed housing with a rating of IP 67.
Each shield consists of a high impact-resistant, transparent polycarbonate shield with an aluminum profile support and provides operator protection from flying chips and coolant. The shields have horizontal and vertical adjustment with a steel arm that provides easy mounting.
Related Glossary Terms
coolant


coolant

Fluid that reduces temperature buildup at the tool/workpiece interface during machining. Normally takes the form of a liquid such as soluble or chemical mixtures (semisynthetic, synthetic) but can be pressurized air or other gas. Because of water's ability to absorb great quantities of heat, it is widely used as a coolant and vehicle for various cutting compounds, with the water-to-compound ratio varying with the machining task. See cutting fluid; semisynthetic cutting fluid; soluble-oil cutting fluid; synthetic cutting fluid.

grinding


grinding

Machining operation in which material is removed from the workpiece by a powered abrasive wheel, stone, belt, paste, sheet, compound, slurry, etc. Takes various forms: surface grinding (creates flat and/or squared surfaces); cylindrical grinding (for external cylindrical and tapered shapes, fillets, undercuts, etc.); centerless grinding; chamfering; thread and form grinding; tool and cutter grinding; offhand grinding; lapping and polishing (grinding with extremely fine grits to create ultrasmooth surfaces); honing; and disc grinding.

grinding wheel


grinding wheel

Wheel formed from abrasive material mixed in a suitable matrix. Takes a variety of shapes but falls into two basic categories: one that cuts on its periphery, as in reciprocating grinding, and one that cuts on its side or face, as in tool and cutter grinding.