October 13, 2012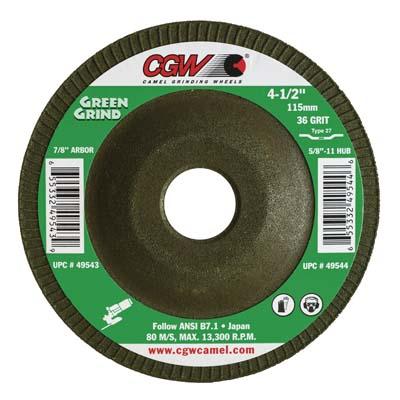 CGW-Camel Grinding Wheels introduces Green Grind, a high-performance, depressed-center grinding wheel.
Manufactured from a premium bond and zirconia-aluminum oxide grain mixture, the new wheel coolly grinds metal 50 percent faster than typical aluminum oxide wheels and will not discolor or warp stainless steel.
Containing less than 0.1 percent of sulfur, chlorine and iron, Green Grind wheels are ideal for tank fabrication, power plant maintenance and metal fabrication. Green Grind wheels can be used on mild steel, hard face, titanium, stainless steel, inconel and aluminum metals.
The new Green Grind wheels are available in 36-grit size, type 27 shape, with 4 ½", 5" and 7" diameters with 7/8" or 5⁄8"-11 arbor hole.
"CGW's new Green Grind wheels are exceptionally fast and run smoothly providing quieter working and less operator fatigue," said Joe O'Mera, president, CGW-Camel Grinding Wheels.