September 13, 2013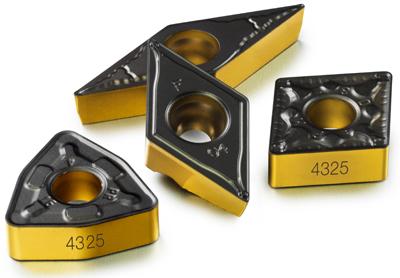 September2013 — Sandvik Coromant introduces GC4325, a new-generation coated cemented-carbide grade for steel turning. This latest innovation in tool material provides a new, higher potential for increasing cutting speeds and a longer, more predictable tool life with very high reliability, over an extended broad ISO P25 application area.
Predictability has become increasingly important in today's machining, especially where there is limited supervision in production. There are always a number of threats to the edge line remaining intact long enough in steel turning. One challenge is the breadth of the ISO P25 application area, which includes several very different materials, from ductile low-carbon steels to high-alloy hard steels, bar material to forgings, castings to pre-machined parts. The advances with the new grade, GC4325, will actually help users resist holding back on cutting-data levels. The grade provides extremely high process security through its ability to retain an intact edge line, according to the company.
The insert substrate and coating of GC4325 have been developed to better withstand high temperatures, thereby reducing the effect that causes excessive wear.
As a bonus, the grade is highly capable of maintaining the insert edge line at higher temperatures, which translates into the capability for higher cutting speeds with added security through more predictable, longer tool life.
With all this in mind, an average productivity increase of 30 percent from today's existing levels is now available. The grade represents a new generation of performance with coated cemented-carbide indexable inserts, providing a new potential to be tapped throughout a large and diversified application area.
Related Glossary Terms
low-carbon steels


low-carbon steels

Group of carbon steels designated by American Iron and Steel Institute numerical classification as AISI 1005, 1006, 1008, etc., up to AISI 1026, for a total of 16 grades. They are softer and more ductile than other carbon steels. Composition of low-carbon steels is 0.06 to 0.28 percent carbon, 0.25 to 1.00 percent manganese, 0.040 percent (maximum) phosphorus and 0.050 percent (maximum) sulfur. See high-carbon steels; medium-carbon steels.

turning


turning

Workpiece is held in a chuck, mounted on a face plate or secured between centers and rotated while a cutting tool, normally a single-point tool, is fed into it along its periphery or across its end or face. Takes the form of straight turning (cutting along the periphery of the workpiece); taper turning (creating a taper); step turning (turning different-size diameters on the same work); chamfering (beveling an edge or shoulder); facing (cutting on an end); turning threads (usually external but can be internal); roughing (high-volume metal removal); and finishing (final light cuts). Performed on lathes, turning centers, chucking machines, automatic screw machines and similar machines.