August 01,2014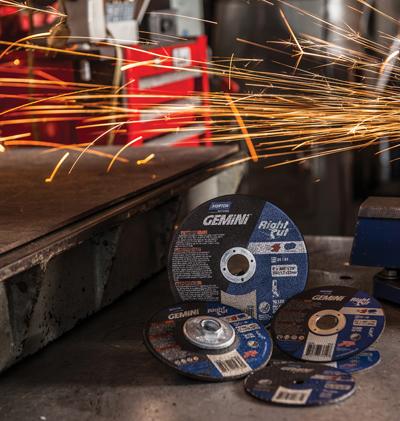 Norton | Saint-Gobain has introduced a major upgrade to its Norton Gemini RightCut Wheels, reportedly providing an optimal aluminum oxide option for cutting steel and ferrous metals.
The latest generation Norton Gemini RightCut wheels are 100 percent A/O abrasive, infused with a new bond technology and process, for a thinner wheel design and low kerf loss. Strong, extra-thin .045" wheels result in less material waste and quick cutting action. Providing a clean, precise, straight, burr-free quality cut, RightCut wheels offer up to 20 percent faster cutting than a standard wheel, according to the company. The wheels are longer lasting, extending wheel usage up to 70 percent more than conventional wheels. The new Norton Gemini RightCut wheels also require less pressure while cutting, giving operators a more comfortable, easier-to-use cut-off solution.
"Our exclusive new design on the Gemini RightCut wheels will outlast and outcut competitive A/O blades," said Debbie Gaspich, Norton | Saint-Gobain director of product management, North America. "Operators will also appreciate a comfortable cut, as the wheels quickly and easily slice through a variety of steels."
Norton Gemini RightCut wheels are a cost-effective cut-off solution for portable, guarded right angle grinders and are ideal for numerous metal slotting and cut-off applications including on bolts and studs, angle iron, tubing and sheet metal in a variety of materials ranging from carbon to stainless steel. Type 01 (4" — 7") and Type 27 (4" — 9") wheels are available.