June 14,2018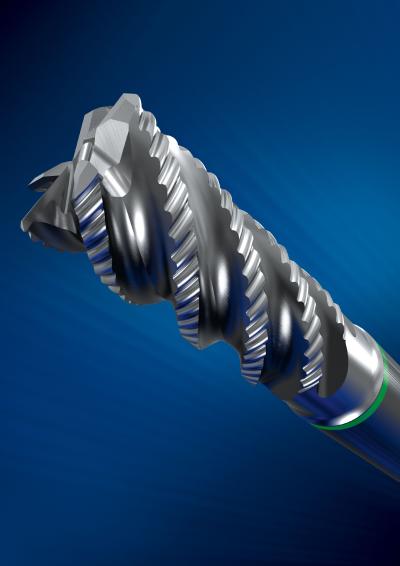 The new GARANT MasterSteel SlotMachine from the Hoffmann Group is a solid-carbide roughing endmill, which achieves high feed rates when slot milling from solid steel. The innovative knuckle form profile produces extremely compact swarf. Therefore, the Hoffmann Group was able to construct the milling cutter with five cutting edges. As a result, at a constant feed rate per tooth the new five-edge end mill achieves 25 percent higher process efficiency than a classic four-edge endmill.
Thanks to the innovative knuckle form profile, the cutting pressure is lower and higher feed rates can be obtained with a constant load. Due to the compact chips and the lower cutting forces, the new GARANT MasterSteel SlotMachine high-performance endmill is particularly suitable both for milling deep slots and for machining delicate components.

Based on its unusual geometry, the new GARANT MasterSteel SlotMachine solid-carbide endmill produces chips that are very short, fine and particularly tightly rolled. These are easily cleared by the flat chip-breaker recesses. The directional chip discharge increases the process reliability, the extremely sturdy core diameter the tool stability.

The GARANT MasterSteel SlotMachine permits plunge angles up to 10 degrees. The cutting edge design includes honing to minimize the risk of break-aways. The ultrafine grain substrate greatly increases the resistance to breakage; while the enhanced coating also optimizes the wear characteristics and reduces the rate of heat input. The unequal spacing ensures a smooth cutting action.

The GARANT MasterSteel SlotMachine achieves a feed rate per tooth up to 0.1 millimeter at cutting depths up to twice the tool diameter (2xD). It is available with cutter diameters from 4 to 20 millimeters.