July 31, 2021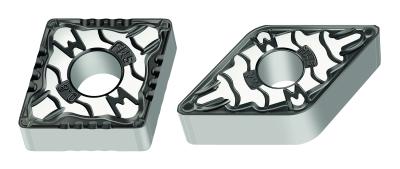 Walter has unveiled the next generation in universal wiper geometries with its FW5 and MW5. These two new geometries deliver consistently good surface finish throughout the entire life of the tool, reducing machining time, and aiding productivity. FW5 and MW5 wiper geometries for turning and facing, with circumference-sintered indexable inserts, generate reduced cutting pressure enabling their use on thin shafts and for internal machining.
The FW5 wiper geometries, with a new wiper curved cutting edge and V chip formation for short chips, can also be used on components with long overhangs thanks to the reduced cutting pressure. In addition, the MW5, with its longer cutting edge, is suitable for the highest feeds. The FW5 and MW5 are available on a variety of inserts. These new Walter geometries reduce machining time by increasing the feed by up to 300% while maintaining surface quality and can allow users to combine roughing and finishing operations using the same insert.
Related Glossary Terms
feed


feed

Rate of change of position of the tool as a whole, relative to the workpiece while cutting.

turning


turning

Workpiece is held in a chuck, mounted on a face plate or secured between centers and rotated while a cutting tool, normally a single-point tool, is fed into it along its periphery or across its end or face. Takes the form of straight turning (cutting along the periphery of the workpiece); taper turning (creating a taper); step turning (turning different-size diameters on the same work); chamfering (beveling an edge or shoulder); facing (cutting on an end); turning threads (usually external but can be internal); roughing (high-volume metal removal); and finishing (final light cuts). Performed on lathes, turning centers, chucking machines, automatic screw machines and similar machines.

wiper


wiper

Metal-removing edge on the face of a cutter that travels in a plane perpendicular to the axis. It is the edge that sweeps the machined surface. The flat should be as wide as the feed per revolution of the cutter. This allows any given insert to wipe the entire workpiece surface and impart a fine surface finish at a high feed rate.