February 01, 2014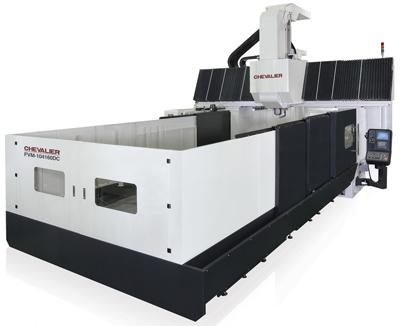 Chevalier's FVM double column VMC has an extremely rigid and stable structure base on oversized columns, extra-wide spacing of box ways on a slanted Y-axis and close symmetrical design of the Z-axis. All models feature 30 HP spindle motors with two-speed gearbox and INA precision roller bearings.
"The series is perfect for lean, repeatable mass production of large and heavy workpieces for aerospace, power generation, wind turbine, oil exploration, heavy machinery, die-mold industry and heavy construction," says Chevalier's Chipcutting Sales Manager Herbert Hou. "FVM Series Double Column VMCs have large-capacity table size, starting at 86.6" x 70.8" and up to 240" x 135", with a table load of up to 44,000 lbs."
The rigid one-piece structure combined with an advanced control system provides flexible machining capabilities. The slanted Y- and Z-axes increases the slideway surface and eventually distributes the load in the area. The oversize wide box ways are coated with Turcite-B and then meticulously cross-scraped by hand to ensure adequate lubrication, smooth movement, reduced drag and optimum wear resistance. The four heavy-duty linear roller ways of the X-axis support the table and boost moving speed, dramatically reducing stick-slip problems caused from box ways machines and increasing the machines positioning accuracy. The machine net weight ranges from 70,400 lbs. to 160,600 lbs.
All axes runs with a Class 3 high-precision, double-nut, pre-tensioned ball screw. The optional oilcirculation in the 80mm large balls crews eliminates thermal building and ball screw deformation and helps maintain their high-positioning accuracy and repeatability. The 50-taper, cartridge-type, air-purge, 6000rpm with 30HP (with an option of 35 HP) spindle is driven by a two-speed gearbox with low speed for extra-high torque output during heavy cutting. It generates a maximum torque of 449 ft.-lbs. The tool set capacity is a 40-arm type with an optional 60-arm type.
The FVM-104160DC Series also uses many premier components inside the machine, including a German INA two-directional roller-bearing which support the axes with excess load and mimimize the backlash. This enables stronger bearing support compared to the single-ball-type thrust bearing.
The chip channel, one on each side of X-axis table, is one piece with the casting and comes with individual chip augers. A high-volume, flood coolant washdown recalculates from a high-capacity coolant tank.
assembling, all Chevalier machines are measured and calibrated by state-of-the-art laser calibration and ball-bar test equipment. This ensures precise verification and compensation of the machines, resulting in increase accuracy and repeatability, according to the company.