March 27, 2019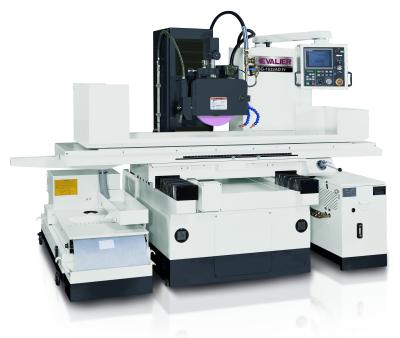 Chevalier's FSG-ADIV series surface grinders have several new features designed to improve productivity and ease of operation.
The series now offers in-machine dynamic balancing, constant surface speed in dressing and grinding cycles and loading force detection. The series is a result of Chevalier's extensive research and development program. In addition to improved accuracy, quality and machine life, the overall design of the machine series incorporates ergonomics to allow ease of operation, increasing work efficiency.
The FSG-ADIV series includes the FSG-1224ADIV, 1632ADIV and 1640ADIV. The in-machine dynamic balancing system enables the adjustment of the balance weight at the wheel position while limiting wheel vibrations to less than 1 µm.
The machines can enter an automatic dressing cycle during machining. The table will position itself where the diamond is set and dress and compensate according to the operator's settings.
The load force detection enables the spindle load to measure during the machining cycle. The operator can utilize this information to determine whether a wheel needs to be dressed. If an abnormal load is detected, the spindle will automatically move up to stop the cycle.
The control station for the FSG-ADIVseries is a user friendly, NC platform that features a 10.4"TFT high-resolution 65,536 pixel color screen with a touch panel control interface.
iMachine Communications SystemTM is ready for remote data collection and data tracking from a mobile device with additional PC and software.
For more information about this series, click here.
Related Glossary Terms
dressing


dressing

Removal of undesirable materials from "loaded" grinding wheels using a single- or multi-point diamond or other tool. The process also exposes unused, sharp abrasive points. See loading; truing.

grinding


grinding

Machining operation in which material is removed from the workpiece by a powered abrasive wheel, stone, belt, paste, sheet, compound, slurry, etc. Takes various forms: surface grinding (creates flat and/or squared surfaces); cylindrical grinding (for external cylindrical and tapered shapes, fillets, undercuts, etc.); centerless grinding; chamfering; thread and form grinding; tool and cutter grinding; offhand grinding; lapping and polishing (grinding with extremely fine grits to create ultrasmooth surfaces); honing; and disc grinding.

numerical control ( NC)


numerical control ( NC)

Any controlled equipment that allows an operator to program its movement by entering a series of coded numbers and symbols. See CNC, computer numerical control; DNC, direct numerical control.