August 13, 2013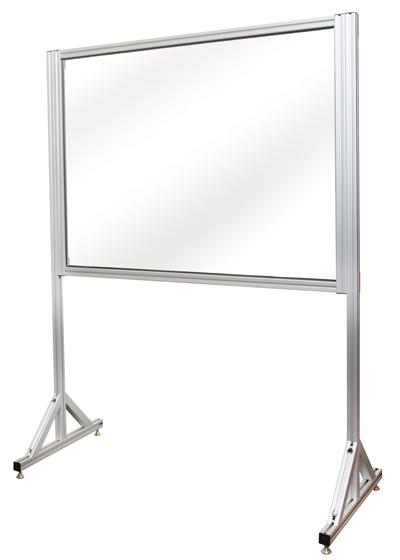 Danray Products LLC offers free-standingshields that can be used in many applications for safeguarding, as well as for housekeeping. Ideal for lathes and milling machines, these shields can be applied between machines, on the backside of machines and along aisles. They can also be used in other applications to protect individuals from flying chips, sparks, coolant, lubricant and other particles.
These assemblies are constructed of 1 ½"-square extruded aluminum with a 48" W x 36" H x ¼"-thick polycarbonate panel and include fasteners and a safety sign. The shield can be adjusted up or down on the posts. Custom sizes are available upon request.
Related Glossary Terms
coolant


coolant

Fluid that reduces temperature buildup at the tool/workpiece interface during machining. Normally takes the form of a liquid such as soluble or chemical mixtures (semisynthetic, synthetic) but can be pressurized air or other gas. Because of water's ability to absorb great quantities of heat, it is widely used as a coolant and vehicle for various cutting compounds, with the water-to-compound ratio varying with the machining task. See cutting fluid; semisynthetic cutting fluid; soluble-oil cutting fluid; synthetic cutting fluid.

gang cutting ( milling)


gang cutting ( milling)

Machining with several cutters mounted on a single arbor, generally for simultaneous cutting.

milling


milling

Machining operation in which metal or other material is removed by applying power to a rotating cutter. In vertical milling, the cutting tool is mounted vertically on the spindle. In horizontal milling, the cutting tool is mounted horizontally, either directly on the spindle or on an arbor. Horizontal milling is further broken down into conventional milling, where the cutter rotates opposite the direction of feed, or "up" into the workpiece; and climb milling, where the cutter rotates in the direction of feed, or "down" into the workpiece. Milling operations include plane or surface milling, endmilling, facemilling, angle milling, form milling and profiling.