August 04, 2021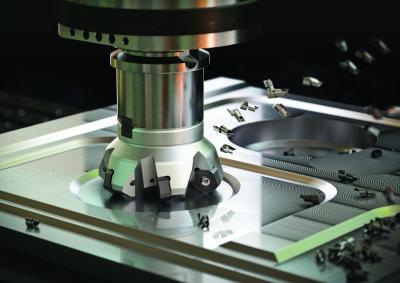 Global machine-tool powerhouse YG-1 is ready to market its newest innovation – FM10 PNMU face milling indexable inserts – combining multi-corner face milling performance with high-feed capabilities.
The advanced design of YG-1's FM10 PNMU inserts separates the cutting edge and the wiper, resulting in 10 true cutting edges.
Another feature – the 36⁰ entry angle – successfully generates thinner chips, providing operators higher feed capabilities. The curved cutting ridge and wiper design is engineered to reduce cutting forces and directs these forces axially along the strength of the machining center into the spindle. These advantages, taken together, optimize operational stability to provide users superior surface finishes and greater productivity.
FM10 PNMU cutters and inserts are recommended for milling in steel and cast iron. Now available in the U.S. and Canada, this YG-1 platform can be ordered in diameters of 2 to 4 inches. YG-1 is developing an expanded range of diameters as well as extending the line for face milling in stainless and other materials.
YG-1 and done. That's our pledge of performance and a source of pride. Because YG-1 is committed to your success and satisfaction. Only YG-1 gives you the tools to simplify and streamline your cutting tool requirements with a single-source supplier of performance and value.
Please see this limited-time offer for free cutter bodies: www.yg1usa.com/promotions/FM10-PNMU.asp.