October 03, 2023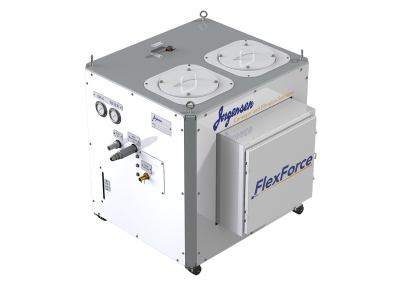 Providing customers additional options and flexibility, Jorgensen Conveyor and Filtration Solutions now offers its advanced FlexForce high pressure coolant system with variable flow rates from two to eight gallons per minute (GPM). The variable flow rate options for the high-performance through-spindle coolant system (TSC) adapt easily to a variety of applications. The new flow rate options come in addition to Jorgensen's standard FlexForce unit with a flow rate of eight GPM.
Both the standard and variable flow rate options are available in 500 or 1,000 PSI configurations and are designed to break through the heat-generated vapor barrier created at the cutting tool and workpiece interface that causes surface deformities and damaged tooling. Because FlexForce gets coolant directly to the cutting zone, it improves lubrication and heat dissipation as well as cutting speeds and feeds, chip control and part surface finishes. Standard units filter to 10 microns; however, 5-to-25-micron filtration is available as an option, upon request.
Designed for fail-safe operation, a low-pressure suction pump draws coolant out of an existing coolant reservoir and through a bag filter into the FlexForce reservoir. From there a high-pressure pump sends pressurized coolant through the machine spindle and directly to the cutting point. As a result, faster machine feeds and speeds are possible for greater productivity.
An onboard coolant reservoir continuously feeds FlexForce's high-pressure pump, and multiple electronic sensors monitor a variety of critical levels for lights-out operations. Automatic pressure regulators and machine-controlled dump valves, along with other fail-safes dramatically reduce or eliminate the risk of system damage.
FlexForce provides safe and efficient operation in a maintenance-friendly design with a small footprint that easily integrates with existing coolant systems. FlexForce units can also be custom engineered for applications that fall outside the standard 500 or 1,000 PSI models.
Related Glossary Terms
coolant


coolant

Fluid that reduces temperature buildup at the tool/workpiece interface during machining. Normally takes the form of a liquid such as soluble or chemical mixtures (semisynthetic, synthetic) but can be pressurized air or other gas. Because of water's ability to absorb great quantities of heat, it is widely used as a coolant and vehicle for various cutting compounds, with the water-to-compound ratio varying with the machining task. See cutting fluid; semisynthetic cutting fluid; soluble-oil cutting fluid; synthetic cutting fluid.