July 18,2018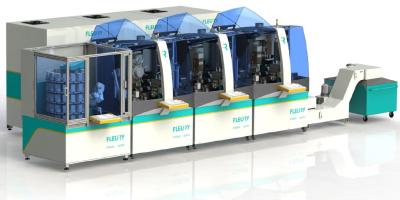 Fleury SA was founded 50 years ago in Biel, Switzerland in the center of the Swiss watchmaking industry. Fleury SA currently has three locations, the main operation in Biel and two additional facilities in Zofingen and Balerna.
Fleury is specialized in the manufacturing of linear transfer systems consisting of six-side milling, turning, boring, grinding and assembly operations. The system is based on a modular, compact design, which has been and still is revolutionary for the manufacturing process in general. The system offers ultraprecision and excellent repeatability.
"Our core competence remains the linear transfer production line for the watch industry. However, our new modular transfer system Modulo 5, a milling machine system with two independent 5-axis units per machine, has been developed for other industries like medical, aviation or defense. Modulo 5 will allow us to win new customers in Europe, USA or Asia," explains Thomas Deeg, head of sales for Fleury SA.
"The new product will be attractive for all manufacturers of medium and small-sized, but highly complex pieces that require the same level of precision than the watch industry. The Modulo 5 is very efficient to manufacture precise parts with a maximum outer dimension of (4.3" X 4.3" X 3"), as milling and turning operations can be combined and the different modules can be highly automatized."
Rotec Tools Ltd. represents Fleury in the North American market. Company President Ivo Straessle informs: "We are very proud to introduce Fleury to our market. The innovative linear approach with a pallet system allows 24-hour operation. Taking raw material to a finished product in such efficient way is very unique. Depending on the product, additional modules can be added."