May 13, 2013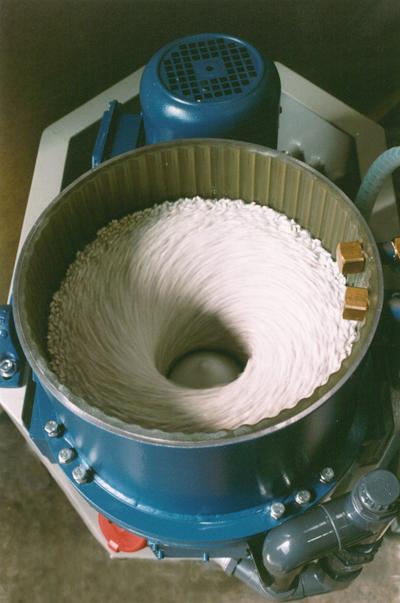 Rosler Metal Finishing introduced the FKS Centrifugal Disk Finishers. Equally effective for products ranging from .2 to 150mm, these vibratory finishers are reportedly ideal for deburring, surface grinding, and radiusing as well as polishing stampings, castings or machined parts.
The FKS's rotating spinner and stationary work bowl design prevents parts from sticking and guarantees uniform results in shorter process times. Our wear-resistant polyurethane bowl lining ensures long life even under the most challenging conditions. Highly sophisticated sensors provide machine function and gap monitoring for optimal performance and efficiency.
Plus, FKS models are designed to be easily integrated into existing process lines. A central PLC controller manages auxiliary functions such as parts loading and post finishing treatment. Process parameters can be customized to meet specific process requirements such as spinner RPM, water levels and screening times.
Related Glossary Terms
grinding


grinding

Machining operation in which material is removed from the workpiece by a powered abrasive wheel, stone, belt, paste, sheet, compound, slurry, etc. Takes various forms: surface grinding (creates flat and/or squared surfaces); cylindrical grinding (for external cylindrical and tapered shapes, fillets, undercuts, etc.); centerless grinding; chamfering; thread and form grinding; tool and cutter grinding; offhand grinding; lapping and polishing (grinding with extremely fine grits to create ultrasmooth surfaces); honing; and disc grinding.

polishing


polishing

Abrasive process that improves surface finish and blends contours. Abrasive particles attached to a flexible backing abrade the workpiece.

surface grinding


surface grinding

Machining of a flat, angled or contoured surface by passing a workpiece beneath a grinding wheel in a plane parallel to the grinding wheel spindle. See grinding.