July 01,2010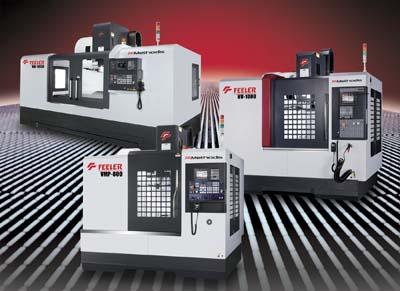 Methods Machine Tools Inc. has introduced FEELER Vertical Machining Centers featuring extensive engineering by Methods, designed to provide users performance and value. The FEELER VMC line is backed by Methods' application expertise, support, and extensive network of technology centers. The line includes the HV-Series, VB-Series and VMP-Series. The FEELER HV-Series VMCs, including HV-800 and HV-1000 models, offer high-performance machining featuring 1G X-Axis acceleration and 1.9 second tool change time in 800mm or 1,000mm X-axis travels. Roller guideways are on the X and Y-Axes. A 15,000 rpm, 30 HP direct drive, 40 taper spindle, FANUC 18i-MB Control with 4th Axis prep. and 30-tool automatic tool changer are standard. The FEELER VB-Series VMCs are heavy duty boxway machines featuring a high torque two stage gearbox and spindles from 15 HP to 30 HP, available in 40 or 50 taper. Models include VB-900, VB-1100, VB-1300, VB-1400, VB-1650, VB-1900 and VB-2200. X-Axis travels range from 900mm — 2,200mm (35" — 87"), Y-Axis travels range from 610mm to 1,000mm (24" — 39") and Z-Axis travels arefrom 600mm to 800mm (24" to 31.5"). A 30-tool automatic tool changer and FANUC 0i-MD control are standard. The FEELER VMP-Series includes the VMP-580, VMP-800 and VMP-1100 models with 10,000 rpm spindles ranging from 15 HP to 25 HP. The VMP-580 machine is also available in an APC pallet changer version. Machines feature linear guideways on X and Y-Axes and boxways on the Z-Axis. X-Axis travels range from 580mm to 1,100mm (23" — 43"), Y-Axis travels range from 420mm to 610mm (16.5" — 24") and Z-Axis travels are from 510mm to 600mm (20" — 23.6"). The VMP-580 features a 24-tool automatic tool changer and the VMP-800 and VMP-1100 use a 30-tool automatic tool changer. A FANUC 0i-MD control is standard on the VMP-Series machines. The rigid FEELER VMCs range in weight from 6,600 lbs. (3,000 kg) to 48,400 lbs. (22,000 kg) and include a two year warranty. The full range of FEELER machines encompasses Vertical Machining Centers, Turning Centers, Bridge Mills and Boring Mills. FEELER machines are manufactured by Fair Friend Group (FFG).
Related Glossary Terms
boring


boring

Enlarging a hole that already has been drilled or cored. Generally, it is an operation of truing the previously drilled hole with a single-point, lathe-type tool. Boring is essentially internal turning, in that usually a single-point cutting tool forms the internal shape. Some tools are available with two cutting edges to balance cutting forces.

centers


centers

Cone-shaped pins that support a workpiece by one or two ends during machining. The centers fit into holes drilled in the workpiece ends. Centers that turn with the workpiece are called "live" centers; those that do not are called "dead" centers.

turning


turning

Workpiece is held in a chuck, mounted on a face plate or secured between centers and rotated while a cutting tool, normally a single-point tool, is fed into it along its periphery or across its end or face. Takes the form of straight turning (cutting along the periphery of the workpiece); taper turning (creating a taper); step turning (turning different-size diameters on the same work); chamfering (beveling an edge or shoulder); facing (cutting on an end); turning threads (usually external but can be internal); roughing (high-volume metal removal); and finishing (final light cuts). Performed on lathes, turning centers, chucking machines, automatic screw machines and similar machines.