June 11, 2018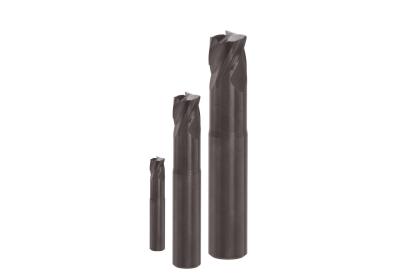 Tungaloy expands its SolidMeister, a family of solid endmills, to include FeedMeister solid-ceramic endmills. Solid endmill applications are expanding as components are becoming more complex and miniaturized using diverse, difficult-to-cut materials such as heat-resistant superalloys.
Pressing weight reduction requirements of aircrafts urges manufacturers to use more difficult-to-machine materials to make components. Typical materials, such as nickel-base superalloys, impose extreme stress on the tool's cutting edge, thereby suppressing productivity improvement.
Tungaloy's new ceramic endmill lines of the FeedMeister series provide extremely high productivity. Due to its high thermal resistance, ceramic endmills enable super high-speed milling. The enhanced FeedMeister line offers a tooling solution for demanding operations that require higher efficiency.
At a glance:

Ceramic endmills suitable for machining HRSAs
FX150 ceramic grade enables high speed machining
High-feed geometry provides extraordinary machining efficiency
Also good for cast iron and specialty graphite materials
Additional Products from Tungaloy America Inc.