November 13, 2013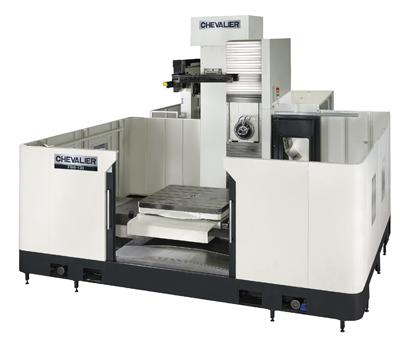 Chevalier Machinery will continue production of its popular FBB-110 — 130 series machine into 2014. The heavy-duty, high precision design of the FBB series of horizontal boring and milling machine with rotary table offers a wide range of machining applications.
"The extra rigid design of the main machine body and column ensure outstanding structural stability. The one-piece machine base includes four guide ways on the Z-axis for full table support with no overhang issues," says Chevalier National Sales Manager Herbert Hou.
Here are vital specs about the FBB-110 — 130 Series:
Capacity: The machine's table size is 63" x 55.1" with a table load up to 22,000 lbs. The XYZ 78.7" x 78.7" x 59". W travel is 19.7" (FBB-110)/27.5" (FBB-130). This FBB model's net weight is 64,900 lbs., with a floor space of 304" x 280" x 193". The optional magazine type ATC accepts tool's weight of up to 55 lbs. The machine has an optional chain type 40/60/80-tool magazine available.
Structure: The series features a one-piece Meehanite cast iron base with heavy-duty large box ways on X-, Y-, and Z-axes and is coated with anti-friction material for consistent accuracy and smooth movement. The high-quality C3 grade ball screws are used on all axes for high precision positioning.
Spindle: The 35HP, 50-taper, large-diameter, cartridge-type, air-purged spindle runs with German made ZF gearbox that generates a maximum of 1220 ft.-lbs. at 600rpm to overcome most tough-material cutting conditions. Spiral-type spindle cooling system provides constant, all-around lubrication, preventing thermal deformation and substantially prolonging the life of the spindle, bearings and gears. The spindle can be extended (W-axis) for deep-hole boring with high-rigidity and superior machining accuracy, according to the company.
Table: The table features a full C-axis contouring with 0.001-degree minimum intervals. It also has a hydraulic break disk plus a locking pin every 90 degrees, designed for maximum stability. The rotary table is driven by an AC servo motor with a worm shaft and gear that provides high torque for heavy work pieces. Accessories: The spindle oil cooler that controls the various temperature changes in the spindle during the machining of consistently accurate work pieces is standard equipment, along with the lubrication system. The standard lift-up chip conveyor and two internal chips augers are also all standard equipment.
Control: The FANUC 0i-MD control has the latest technology with powerful control feature with Ethernet connection; easy-access, front memory card slot; and a huge data-server memory capacity are among the many standard features.